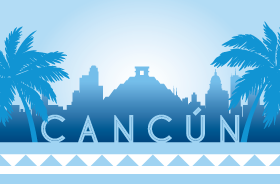 Dublin – The International Air Transport Association (IATA) announced that Aeromexico will host the 73rd IATA Annual General Meeting (AGM) and World Air Transport Summit. The event will attract the top leadership of the air transport industry to Cancun, Mexico from 4-6 June 2017.

"Cancun is an excellent choice for the 73rd IATA AGM. Mexico's Quintana Roo state is world-renowned for its beautiful Caribbean beaches, rich history and culture. And aviation plays a critical role in connecting it to global tourism markets. Cancun's economic development is a testament to the transformative power of air transport," said Tony Tyler, IATA's Director General and CEO.

IATA's member airlines accepted Aeromexico's invitation to host the AGM in 2017 at the close of the 72nd AGM in Dublin, Ireland. Aeromexico has been a member of IATA since 1958. Andres Conesa, the airline's CEO, has served on the IATA Board of Governors since 2008, including as its Chairman for the 2015-2016 term.

Next year's AGM will be the second time the AGM is held in Mexico, the first being in Mexico City in 1994.
"I look forward to welcoming the aviation world to Mexico next year. Delegates will find a vibrant economy in which aviation plays a key role. The industry's footprint in Mexico includes some 156,000 jobs and $4 billion in economic activity. Ambitious infrastructure developments supported by a strategic location at the center of the Americas will ensure a growing role for Mexican aviation on the global stage," said Conesa.
The 72nd AGM and World Air Transport Summit in Dublin attracted nearly 1,000 aviation leaders from IATA member airlines, industry stakeholders, strategic partners and members of the media.
For more information, please contact:
Corporate Communications
Telephone:
Dublin:
+353 1 240 7938
Geneva:
+41 22 770 2967
Email:
corpcomms@iata.org
Notes for Editors:
IATA (International Air Transport Association) represents some 264 airlines comprising 83% of global air traffic.
Follow us on Twitter at http://twitter.com/iata2press for news specially catered for the media or look for AGM discussions using #IATAAGM