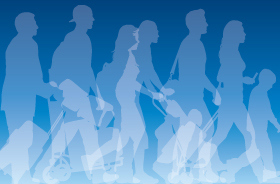 ​Fundamental Changes Still Needed
Geneva - The International Air Transport Association (IATA) welcomed the publication of Interpretative Guidelines on Regulation 261/2004 by the European Commission which brings greater clarity to the European Union's passenger rights regulation. This is an important stop-gap measure until critical reforms to EU 261/2004 are implemented.
"A transparent and level playing field is important for passengers and airlines. Today's interpretative guidelines are an important step to ensure that EU 261 is applied with greater consistency across Europe. The industry's issues with EU 261, however, remain unsolved. Revisions to the regulation proposed in March 2013 would help to provide a better balance between passenger rights and airline obligations. But they are being held in limbo as a result of a deadlocked dispute between Spain and the UK over Gibraltar," said Tony Tyler, IATA's Director General and CEO.
From the start, EU 261 contained ambiguities which resulted in inconsistencies in how the regulation was applied across Europe. Several decisions of the European Court of Justice expanded the scope of the regulation and created further inconsistencies when applied. The interpretative guidelines make important clarifications in the following areas:
Conditions for compensation for delays at final destination
Conditions under which a diverted flight is considered as a cancellation
Confirmation that delays and cancellation are distinct events
While the interpretative guidelines will bring greater clarity for passengers and airlines, they are not a substitute for revisions proposed by the EC in March 2013 which will address some of the fundamental flaws in EU 261. These proposals include:
Time limitations on the provision of care and assistance in extraordinary circumstances beyond the control of the airline
The introduction of "trigger times" for delay compensation that vary by flight length
"Everybody is frustrated when travel plans are disrupted. Passenger rights should be fair, simple, consistently applied and aligned with global standards. Todays' guidelines will help with the consistent application. That's an important step, but follow-up is needed. Many of the March 2013 proposals are welcome but on top of that, more dialogue is needed to address remaining fundamental problems with the regulation," said Tyler.
The industry's support and concerns with the March 2013 proposals were outlined in a press release. IATA, with a coalition of European regional airline associations, continues to work constructively with the EC, the European Parliament and the Council towards the much-needed revisions of Regulation 261 to serve better the interests of both passengers and airlines in alignment with global standards.
For more information, please contact
:
Corporate Communications
Tel:
+41 22 770 2967
Email:
corpcomms@iata.org
Notes for Editors:
IATA (International Air Transport Association) represents some 265 airlines comprising 83% of global air traffic.
You can follow us at http://twitter.com/iata for news specially catered for the media.
News of the EU Commission's guidance can be found in their press release.