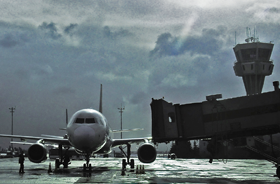 Translation: French (pdf)​
Geneva - The International Air Transport Association (IATA) expressed outrage at last night's attack at Atatürk Airport Istanbul, Turkey.
"Once again, innocent travelers have been attacked in a cowardly and murderous act. Our thoughts are with the victims, and their families and friends," said Tony Tyler, IATA's Director General and CEO.
"Air transport brings people together and facilitates both social and economic development. Istanbul has a particularly significant and historical role in connecting East and West. Last night's attack was a broad attack on our shared humanity. But terrorism will never succeed in reversing the interconnectedness of the world. The desire of the human spirit to explore and trade will always triumph over suspicion and fear. That Istanbul airport is operating today is a testament to the resilience and determination of the Turkish people and the aviation industry. We stand together in solidarity--confident that we will emerge stronger and more united in our resolve to keep connecting our world," said Tyler.
"The safety and security of passengers are our top priorities. This tragedy in Istanbul and the one in Brussels earlier this year show that there is a growing challenge for governments to keep people safe in the 'landside' parts of the airport. Moving people 'airside' more quickly can help to mitigate risk. The industry has a number of initiatives in place to achieve that aim and we are working with governments and airports to implement them," said Tyler.
For more information, please contact
:
Corporate Communications
Tel:
+41 22 770 2967
Email:
corpcomms@iata.org
Notes for Editors:
IATA (International Air Transport Association) represents some 265 airlines comprising 83% of global air traffic
You can follow us at http://twitter.com/iata2press for news specially catered for the media