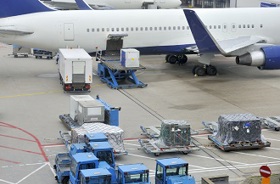 ​Translation: French (pdf)
Geneva and Zurich - The International Air Transport Association (IATA) and the International Federation of Freight Forwarders Associations (FIATA) are pleased to announce that an agreement has been signed by Tony Tyler, IATA's Director General and CEO and Huxiang Zhao, President of FIATA, to implement the IATA-FIATA Air Cargo Program (IFACP) to replace the existing IATA Cargo Agency Program.
Over the decades that the IATA Cargo Agency Program has operated; IATA Cargo Agents (freight forwarders) have evolved from being "selling-agents" for airlines to being their "purchasing-customers". In consideration of this evolution, in 2012 IATA and FIATA joined forces to review, refine and re-engineer the existing Agency Program. The new program moves decision-making on the rules governing the airline-forwarder relationship away from an airline-led conference to a governance body - the IATA-FIATA Governance Board (IFGB) - jointly managed by forwarders and airlines, which reflects today's market conditions.
"IATA and FIATA have reached an important agreement on a new jointly-managed air cargo program. This is the result of four years of hard work to modernize the relationship between freight forwarders and airlines. The IFACP also provides a framework to ensure that industry standards are relevant, pragmatic and fit for purpose. These standards cover the endorsement of freight forwarders and more broadly the safe, secure and efficient transportation of air cargo shipments", said Aleks Popovich, IATA, Senior Vice President, Financial and Distribution Services.
"The Cargo Agency Program has long needed updating. I am really pleased that FIATA and IATA have joined forces to provide our industry with a new, modern program and a framework for operation that benefits both airlines and freight forwarders. IFACP will eliminate unnecessary administrative procedures and costs as well as free up valuable resources to tackle the complex challenges that today's global trade presents.
These include regulatory compliance, safety and security and the introduction of new technologies. This agreement paves the way for a more successful future for the fastest and most fascinating mode of international transport", remarked Mr. Rudi Sagel, Chairman of FIATA's Airfreight Institute (AFI).
The phased rollout of IFACP will begin in early 2017 with Canada as the pilot country. It is anticipated that full global rollout will be completed by end of 2018. The public signature with the common endorsement of the agreement will take place at the October FIATA World Congress which will be held in Dublin, Ireland.
Q&A
1. What are the benefits of the new IATA-FIATA Air Cargo Program (IFACP)?
The structure of the new agreement better reflects the new business models and the buyer-seller relationship that exists today between forwarders and airlines. With the establishment of a global IATA-FIATA Governance Board (IFGB), the industry will be better equipped to achieve key goals including: e-cargo priorities of greater efficiency and shared values, clarification of supply chain liability, improved compliance with safety and security standards through a more coordinated and concerted industry approach.
The IFGB governance structure will reduce the administrative burden in managing the program as it includes the involvement of forwarders as equal partners in the decision making process which now correctly reflects the Principal-to-Principal relationship existing today between Freight Forwarders and Airlines.
2. What is the impact on the current IATA Cargo Agents?
There is no immediate impact on the current IATA Cargo Agents as the current participants of the IATA Cargo Agency/ Intermediary Program will be provided with a new IATA-FIATA Air Cargo Program Agreement when the program implementation process begins in their country. Upon execution and receipt of the completed Agreement, the Endorsed Freight Forwarder will join the new program. No further assessment will be required.
New entrants shall be granted access to the IFACP in accordance with the program's rules, which are designed to be more reflective of how the air cargo business functions in today's market. It is anticipated this process will be completed by end of 2018.
Media Contact:
IATA:
Katherine Kaczynska, Manager Corporate Communications
E-mail: corpcomms@iata.org
Tel: +41 76 577 48 21
www.iata.org
FIATA:
Marco Sorgetti, Director General
Tel: + 41432116500
Email: sorgetti@fiata.com
www.fiata.com
About IATA
Notes for Editors:
IATA (International Air Transport Association) represents some 265 airlines comprising 83% of global air traffic
You can follow us at http://twitter.com/iata2press for news specially catered for the media
About FIATA
FIATA, the International Federation of Freight Forwarders Associations, was founded in Vienna, Austria on May 31st 1926. It is a non-governmental organisation that today represents an industry covering approximately 40,000 forwarding and logistics firms, employing around 10 million people in some 160 countries.
FIATA has consultative status with the Economic and Social Council (ECOSOC) of the United Nations (inter alia ECE, ESCAP, ESCWA, etc.), the United Nations Conference on Trade and Development (UNCTAD), and the UN Commission on International Trade Law (UNCITRAL) as well as many other UN related bodies, e.g. the World Bank.
It is recognised as representing the freight forwarding industry by many other governmental organisations, governmental authorities, private international organisations in the field of transport and logistics, such as the European Commission (through CLECAT), the International Chamber of Commerce (ICC), the International Air Transport Association (IATA), the International Union of Railways (UIC), the International Road Transport Union (IRU), the World Customs Organization (WCO), the World Trade Organization (WTO), etc.
www.fiata.com