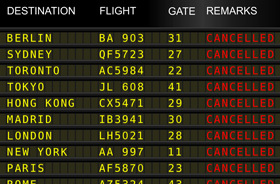 Madrid - The International Air Transport Association (IATA) condemned the effects of air traffic controller strikes, which have caused 1 million minutes of delay across Europe this year, and called for governments to take steps to ensure service continuity in the face of industrial action.
"The current frequency of disputes is totally unacceptable. European air travelers have suffered an incredible 1 million minutes of delay and over 3000 cancelled flights as a result of strikes this year. And today is yet another day of French strikes. Every hour wasted impacts European productivity as businesses are disrupted. And it hurts holiday-makers when plans need to be altered. The time has come for European governments to work together to ensure the essential service of air traffic control is able to continue even during strikes," said IATA's European Regional Vice President, Rafael Schvartzman.
Controller strikes in France today are expected to lead to the cancellations of at least 15% of flights out of Paris. "Air Traffic Controllers are highly-compensated professionals in a dynamic industry. They should be embracing reforms that are critical to delivering the safety, capacity, cost and environmental improvements European air travelers deserve," said Schvartzman.
IATA called on governments to ensure service continuity for air traffic management services. "The European economy needs reliable air connectivity. It cannot afford to have its airspace closed like this. A starting point to keeping Europe's skies open would be for each country to develop its own national airspace strategy, in consultation with airlines, which contains provisions for ensuring service continuity during periods of industrial action or equipment failure," said Schvartzman.
Alongside improving business continuity, the national airspace strategies should set out how individual European states will modernize and reform their air navigation systems in order to deliver improvements which will benefit passengers and the European economy.
Central to these aims are the goals of the Single European Sky (SES) project, which aims to improve safety and reduce costs, delays and emissions. Due to a lack of political will at state level, the SES has languished without significant progress for many years. A study undertaken by SEO Amsterdam economics published in February 2016 revealed the tremendous economic opportunities available to Europe if its air traffic management system were modernized and the SES goals realized by 2035. These benefits include an extra 1 million jobs and €245 billion in additional GDP annually.
For more information, please contact:
Corporate Communications
Tel: +41 22 770 2967
Email: corpcomms@iata.org
Notes for Editors:
IATA (International Air Transport Association) represents some 265 airlines comprising 83% of global air traffic.
You can follow us at http://twitter.com/iata2press for news specially catered for the media.
More information on the benefits of European Airspace modernization can be accessed at www.iata.org/europe-airspace