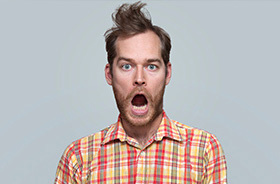 Translations: French (pdf)
​​​Geneva - The International Air Transport Association (IATA) released figures showing that reports of unruly passenger incidents onboard aircraft increased in 2015. Some 10,854 unruly passenger incidents were reported to IATA by airlines worldwide last year. This equates to one incident for every 1,205 flights, an increase from the 9,316 incidents reported in 2014 (or one incident for every 1,282 flights).
The majority of incidents involved verbal abuse, failure to follow lawful crew instructions and other forms of anti-social behavior. A significant proportion (11%) of reports indicated physical aggression towards passengers or crew or damage to the aircraft. Alcohol or drug intoxication was identified as a factor in 23% of cases, though in the vast majority of instances these were consumed prior to boarding or from personal supply without knowledge of the crew.
"Unruly and disruptive behavior is simply not acceptable. The anti-social behavior of a tiny minority of customers can have unpleasant consequences for the safety and comfort of all on board. The increase in reported incidents tells us that more effective deterrents are needed. Airlines and airports are guided by core principles developed in 2014 to help prevent and manage such incidents. But we cannot do it alone. That's why we are encouraging more governments to ratify the Montreal Protocol 2014," said Alexandre de Juniac, IATA's Director General and CEO.
The Tokyo Convention was modernized with the Montreal Protocol 2014, closing gaps in the international legal framework dealing with unruly passengers. To date, six states have ratified the Protocol. "More are needed in order to have a consistent global approach to this issue," said de Juniac.
Also in 2014 the airline industry set out core principles for a balanced, multi-stakeholder strategy for tackling unruly behavior, based around enhancing the international deterrent and more effective prevention and management of incidents.
In some countries there has been a focus on the role of alcohol as a trigger for disruptive behavior. Airlines already have strong guidelines and crew training on the responsible provision of alcohol. IATA is supporting initiatives, such as the code of practice pioneered in the UK, which includes a focus on prevention of intoxication and excessive drinking prior to boarding. Staff in airport bars and duty-free shops must be trained to serve alcohol responsibly and there is a need to avoid offers that encourage so-called 'binge drinking'.
Evidence from an initiative by Monarch Airlines at London's Gatwick Airport has shown instances of disruptive behavior can be cut 50% with this pro-active approach before passengers' board. The industry believes that adopting this cooperative voluntary approach is preferable to heavy-handed regulation and licensing.
"There is no easy answer to stem the rise in reported unruly behavior. We need a balanced solution in which all stakeholders can collaborate. The industry's core principles can help to manage the small percentage of passengers who abuse alcohol. And it must be balanced with efforts by governments taking advantage of all their deterrence mechanisms, including those provided through the Montreal Protocol 14," said de Juniac.
For more information, please contact:
Corporate Communications
Tel: +41 22 770 2967
Email: corpcomms@iata.org
Notes for Editors:
IATA (International Air Transport Association) represents some 265 airlines comprising 83% of global air traffic
You can follow us at http://twitter.com/iata2press for news specially catered for the media

IATA has submitted a Working Paper (pdf) to the International Civil Aviation Organization's 39th Assembly calling on states to expedite the ratification of MP14