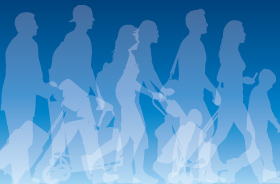 IATA Survey Reveals New Air Transport Trends
Dubai – The International Air Transport Association (IATA) announced the results of its 2016 Global Passenger Survey (GPS) which showed that passengers are looking for technology to improve their travel experience.
Based on 6,920 responses from around the globe, the survey provided insight into what passengers want from their air travel experience. Topping the list were:
Arriving at the airport ready to fly
Passing through security and border control once without having to remove personal items
Uniquely-tailored travel options – and passengers are prepared to offer their personal data to access them
Having the same connectivity in the air as on the ground
Ready to fly
The survey revealed passengers want to be able to do more of the traditional airport processes 'off airport' by taking advantage of the latest digital self-service options. In 2016 the percentage of passengers who checked-in online and used a mobile boarding pass rather than a printed one increased from 69% in 2015 to 71%.
The GPS found that the majority of passengers are keen to see the baggage process shaken up with 33% of those surveyed wanting to self-tag their bags and 39% to use electronic bag tags. A considerable number of passengers would like to travel to the airport 'baggage free': 26% want their luggage picked up from home and delivered to the airport and 24% want to be able to drop off their luggage away from the airport. In addition, 61% of passengers expressed interest in tracking their bag throughout the journey. Airlines are facilitating this by adopting IATA's baggage Resolution 753 which tracks bags at major journey points such as loading and unloading.

"Passengers want to arrive at the airport ready to fly by taking advantage of 'off airport' digital self-service options. IATA is helping the industry make this a reality for more travelers through its Fast Travel Program. If the industry meets its internal program goals, then by 2020, 80% of global passengers will have access to more self-service options," said Pierre Charbonneau, IATA's Director, Passenger and Facilitation.
Passenger pain points
Passengers identified airport security and border control processes as two of their biggest pain points when travelling. The top frustrations were the wide variation in security screening procedures at different airports and the intrusiveness of having to remove personal items. A majority of passengers only want to pass through security and border control once during their journey.
To make security and border control areas as safe, effective and hassle-free as possible for passengers, the industry needs to embrace new Smart Security technology. With 40% of passengers choosing their route based on their airport transfer experience, airlines and airports can't afford to ignore passengers' wishes.
Data sharing to improve the travel experience is a go
Passengers want airlines and airports to offer them a more customized travel experience with 85% willing to provide more personal data to make this happen.
Airlines and airports that make the most use of technology innovations will ultimately edge forward.
Connected to Wi-Fi at 30,000 feet
Passengers want to be fully connected on board preferably through their own devices. The GPS found that 51% of passengers, a 12% increase on 2015, would prefer to use their own devices on-board - Bring Your Own Device (BYOD) - to access entertainment options.
With availability of Wi-Fi connectivity continuing to have a direct impact on the overall air travel experience, adopting the latest on-board Wi-Fi technology remains an effective way for airlines to distinguish their brand.
"Passengers want convenience and quick results with their bookings and check-in, a seamless and secure airport experience and uniquely tailored experiences throughout their journey. They are ready to embrace the benefits of new technology when it comes to enhancing their travel experience. Airlines and airports that recognize this and provide passengers with easy-to-use mobile services, self-service options and one-stop security checks will improve the travel experience and passenger satisfaction," said Nick Careen, IATA's Senior Vice President for Airport, Passenger, Cargo and Security.
The latest IATA Global Passenger Survey (GPS), conducted with support from PwC, LLP analyzed the comments from passengers from more than 145 countries across all regions in the world.
To gain access to the GPS 2016 full report and the highlights, visit www.iata.org/gps
For more information, please contact:
Corporate Communications
Tel: +41 22 770 2967
Email: corpcomms@iata.org
Notes for Editors:
IATA (International Air Transport Association) represents some 265 airlines comprising 83% of global air traffic.
You can follow us at http://twitter.com/iata2press for news specially catered for the media.