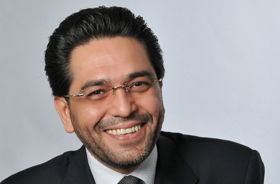 ​Saudia's Albakri joins IATA
Translation: Arabic (pdf)
Geneva - The International Air Transport Association (IATA) announced that Muhammad Ali Albakri will join IATA as Regional Vice President for Africa and the Middle East (AME). Albrakri's appointment is effective 1 January 2017 and will be based in the IATA regional office in Amman, Jordan.
"Muhammad Ali Albakri is stepping into a critical role at IATA. Africa and the Middle East are among the fastest growing markets for air transport. While the region has tremendous potential, it also faces some big challenges. Infrastructure, regulation and taxation must align to support the social and economic benefits of a successful aviation sector. I am confident that Muhammad's solid aviation background will deliver great value to our members and aviation in general across AME," said Alexandre de Juniac, IATA's Director General and CEO.
Albakri is a Saudi national and aviation veteran. Since the beginning of this year Albakri has served as Executive Vice President for Strategic Projects and Transformation at Saudi Arabian Airlines. In that role he was charged with delivering various initiatives as part of a broad transformation strategy devised to strengthen the competitiveness of the airline as it aims to double its size by 2020. Under Albakri's leadership, Saudia successfully moved its second largest domestic hub operation into the new Terminal 5 at Riyadh's King Khalid International Airport in May of this year. He is also leading similar relocations of the airline's operations to new facilities in Jeddah and Cairo.
Albakri's career at Saudia spanned some 26 years. He rose through the ranks of the airline's IT Division, eventually being appointed as Vice President of Information Technology (2009-2016) concurrent to holding the responsibility of Chief Financial Officer (2012-2016). In these roles, Albakri led the strengthening of the carrier's technology infrastructure and the modernization of its financial practices and processes.
"I am tremendously excited to take-up this challenging role. IATA has made critical contributions to the development of aviation around the world. That work is especially evident in Africa and the Middle East where the industry is rapidly changing. I have seen first-hand the transformational power of IATA's global standards such as Fast Travel, e-freight and New Distribution Capability. These boost competitiveness and please customers at the same time. In my new role, I am excited to be responsible for the full suite of IATA's activities and shall be a tireless advocate for aviation's success in the AME region," said Albakri.
Albakri will lead IATA's Regional Office for AME where a total of 124 employees are responsible for IATA's operations across 68 countries. This includes the operation of IATA's settlement systems which efficiently handle some $23 billion of industry money annually across 38 Countries. The fast growing AME region is home to 58 of IATA's 265 member airlines and accounts for 11.6% and 15.5% of global traffic in terms of RPKs and FTK, respectively. Aviation support some 9 million jobs and $130 billion of GDP across Africa and the Middle East.
Albakri succeeds Hussein Dabbas who led IATA in the region from 2012 until June, 2016. Among Dabbas's many leadership contributions during his tenure at IATA was the successful integration of IATA's activities in the Middle East and Africa into one region.
For more information, please contact:
Corporate Communications
Tel: +41 22 770 2967
Email: corpcomms@iata.org
Notes for Editors:
IATA (International Air Transport Association) represents some 265 airlines comprising 83% of global air traffic
You can follow us at http://twitter.com/iata2press for news specially catered for the media