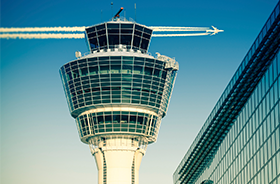 ​Geneva - The International Air Transport Association (IATA) declared its support for and participation in the Sky's the Limit campaign for more efficient air traffic routes in the UK, and called for similar momentum for airspace change throughout Europe. NATS, the UK air traffic control company, has plans for important airspace changes to update a system originally designed 50 years ago. But it needs a government policy framework to provide the necessary political support for change.
Estimates produced by SEO Economics for IATA (pdf) suggest that the UK could gain £29 billion and 116,000 jobs annually from fully-optimized airspace by 2035. Moreover, every passenger will benefit from shorter travel times and more connections.
"Air routes in the UK are hampered by lack of political will to help NATS deliver change to ensure greater capacity, fewer delays, and reduced emissions and noise. The Sky's the Limit campaign is calling for the UK Government to set a policy for modernization and reform – an objective fully shared by the airline community," said Rafael Schvartzman, IATA's European Regional Vice President.
IATA urged similar action throughout Europe to address airspace inefficiencies that are costing passengers around 10 million minutes of delay every year. Lack of optimized routes results in excess fuel usage and emissions. The SEO Report suggests a fully modernized airspace would unlock €245 billion in annual economic benefits by 2035: the result of improved productivity, a million extra jobs, and lower costs.
"The benefits that the Sky's the Limit campaign envisages for the UK can be replicated across Europe, but modernized European airspace can only be achieved if airlines, ANSPs and Governments work together. If the UK get its approach right, it will be a leading example for other European states to follow. We need each country to develop a National Airspace Strategy, in full consultation with airlines, to maximize the potential of our airspace system. There should be no limits to creating the high-quality airspace network passengers deserve," said Schvartzman.
See infographic (png).
For more information, please contact:
Corporate Communications
Tel: +41 22 770 2967
Email: corpcomms@iata.org
Notes for Editors:
IATA (International Air Transport Association) represents some 265 airlines comprising 83% of global air traffic
You can follow us at http://twitter.com/iata2press for news specially catered for the media
The Sky's the Limit group, which is made up of the Airport Operators Association, BAR UK, Airlines UK, IATA and NATS is committed to working collectively as an industry with government, communities and other key stakeholders to deliver airspace modernization and its associated environmental and economic benefits
The report from SEO Amsterdam Economics Research, commissioned by IATA, Economic Benefits of European Airspace Modernization calculated that the European economy will be boosted by €245 billion in 2035 if European airspace is modernized. The Report calculates the impact if the inefficiencies in European air traffic management, which include unnecessary route extensions of up to 50km and delays of around 10 minutes per flight, were eliminated.