It is a pleasure to be in Dubai. What a great location for the World Passenger Symposium. It is at the leading edge of many changes in our industry. Many thanks to our host—Emirates Airline—and all the sponsors who have made this event possible.
The passenger is the most important part of our business. Without them, we will have no business!
I have to say, that I love the theme of the World Passenger Symposium: innovating better together. This speaks to IATA's role as a driving force for innovation—particularly through global standards. It highlights the need for change. And it implies that partnerships are vital to meeting passenger demands with safe, secure, efficient and sustainable connectivity.
I am new to IATA. Today is my 48th day in the job. The theme, of course, was picked long before I arrived. So allow me to introduce one additional concept—speed.
The pace of change is accelerating. Keeping up is a major challenge for an industry whose first priority always must be safety. Safety is not measured by speed. And our excellent record on safety is the result of a mindset focused on global standards and years of experience. Passenger needs, however, evolve much more quickly. And it is real race to meet their expectations.
It is also a race to meet their growing numbers. According to our latest 20-year passenger forecast—which Brian Pearce, our chief economist will present shortly—we expect some 7.2 billion people to fly in 2035. That's about twice as many as this year.
It is great news that more and more people will benefit from global connectivity. There is a huge opportunity for our growth. And that will spread aviation's social and economic benefits. But there are challenges. I would like to share my thoughts on what I think are the three most pressing for this gathering:
How can we understand the passenger well enough to meet or exceed their expectations?
How can we efficiently distribute personalized travel products?
And, can we make sure that our infrastructure can cope with growth?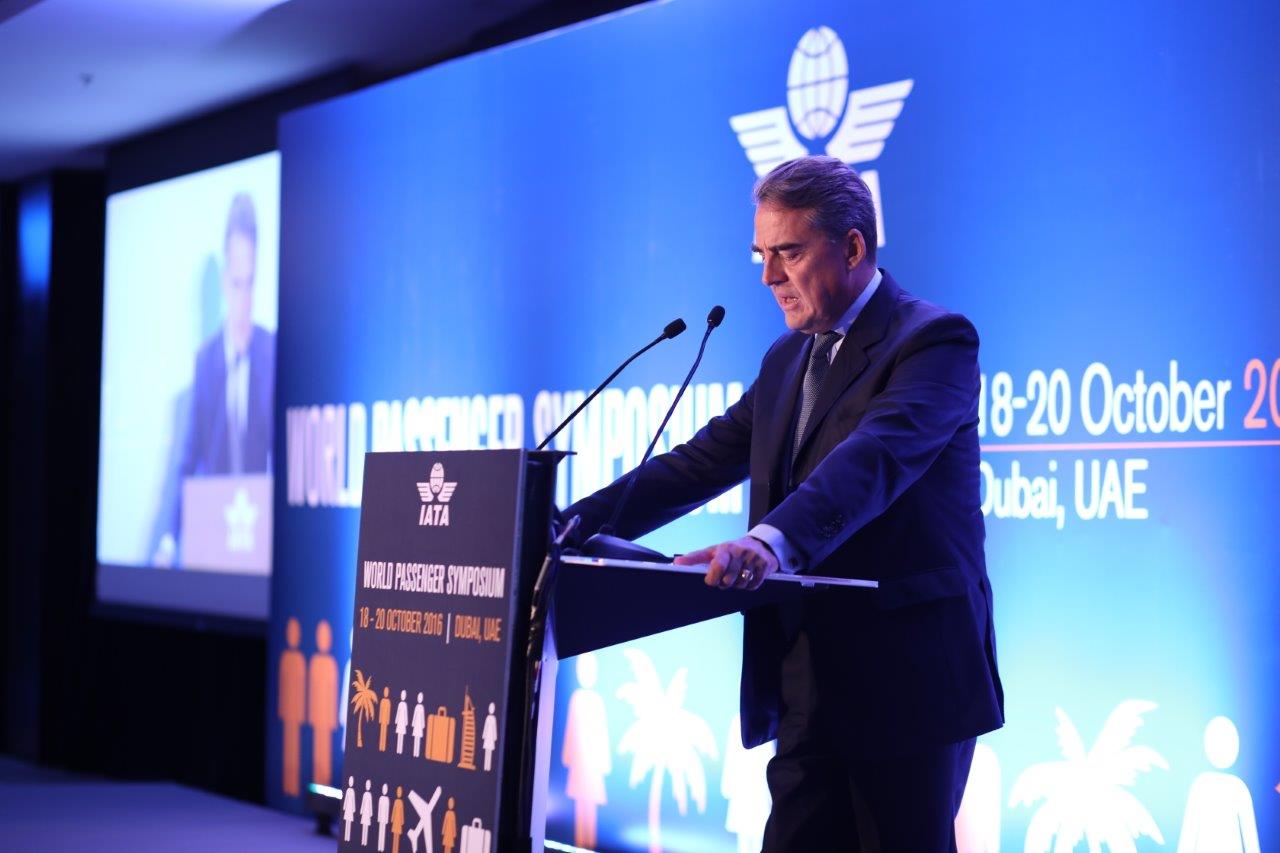 Understanding and meeting expectations is the baseline
As a traveler and then as the CEO of Air France-KLM, I witnessed the changes brought by IATA's Simplifying the Business program (or StB as it is known). The internet enabled e-tickets, web-check-in, bar-coded boarding passes and empowered passengers with self-service. And it was a quick transformation. In 2004 the e-ticket was a novelty. Today paper tickets are usually only found in museums. And the Fast Travel self-service options—also a product of our efforts to "Simplify the Business" are taken for granted by a growing number of travelers.
Of course, selling tickets and processing travelers more efficiently does not necessarily mean that we know our customers and are responding to their needs. It was not long ago that the relationship with the customer started when she or he showed up at the airport to check-in. And our understanding of their expectations was limited. And that was not helped by our history—where many of our early pioneers developed as technical businesses run by engineers. They laid the foundation for our superb safety performance.
As competition increased, the need for great customer service rose up the priority list. Today, like any other business, airlines need balanced teams. Through our frequent flyer programs and other activities we have much more information about our passengers. As a result, the contribution that we depend on our marketing departments to deliver is particularly potent. Success comes from understanding the information we have on our customers in order to build strong relationships with our brand. A transactional relationship that starts with a reservation and ends when the passenger collects their luggage at the end of the flight is simply not enough.

We must aim for long-term relationships with our customers to evolve airlines from commodity travel providers into bespoke travel partners.
How do we get there? In my opinion, the combination of marketing expertise, advanced communication technology and the analysis of big data is powerful. Getting it right creates a profound knowledge of our customers. And using that we can grow the business by stimulating demand.

To be clear, I am not speaking of network development. That is a science in itself. Rather, I am talking about the development of the customer experience—before booking, at the airport, in the plane and long-after they have reached their destination. This is one of the lessons that network carriers are learning from the low cost sector. The "pay-for-what-you-want" model has some resemblance to the personalized travel experience that network carriers are beginning to deliver. Both are about providing a product that maximizes value for customers.
It Begins with Distribution
I believe that the New Distribution Capability (NDC), another StB initiative, will play a transformational role in evolving the customer experience. We will know our customer long before the first click in the reservation process. And when they are ready to book—by themselves or through a travel agent—NDC will enable airlines to offer them better value with options to personalize the journey around their needs.

Truth be told, while this is revolutionary for much of the airline industry, we are really just catching up with the standard practices of almost every other company doing business over the internet. The good news is that we are moving fast. Already 26 airlines have implemented at least a part of the NDC standards. And as the benefits become even more apparent to all players in the value chain and their customers, the speed of implementation will accelerate.

The next challenge is to free our passengers from the multitude of identifiers associated with any one booking—the Global Distribution System (GDS) reservation number, ticket number and airline reservation number. It's unnecessarily complicated for travelers and inefficient for airlines. The budget carriers have demonstrated the advantages of ticketless travel. It's simpler and cheaper compared to the complex and less flexible systems that network carriers use. But, it does not necessarily allow for links to other carriers or complicated itineraries.

The ONE Order initiative promises to cut through the complexity to create itineraries with a single reference number that will have the potential of connecting to the networks of budget carriers. That will add real value to our customers and opportunities for our business.

We are only at the very beginning with ONE Order development. It will require strong cooperation with our IT partners. And we must be prepared for fundamental change in the back-office—replacing not just legacy systems, but also the legacy mindset.

All of this means that when we see our customers at the airport, we'll be even better prepared to deliver value than we are today because of modernized distribution processes and knowledge of customer expectations.
But we must think even bigger. My dream journey through the airport would offer (1) security processes that are both effective and convenient, (2) constant communication that guides me through the journey and makes me aware of any irregularities or changes, and (3) a more efficient way of identifying myself to the airline, security staff and border management.

I am sure that you won't be surprised that this "dream journey" is aligned with what is contained in the StB White Paper. In fact solutions are in various stages of development.

The most advanced is Smart Security, a joint venture with Airports Council International (ACI). Hartsfield-Jackson Atlanta International Airport is the latest to join the program. And we have a strong pipeline of airports trialing components of Smart Security around the world. Trials for real-time constant communication are demonstrating the value of guiding passengers through their journey. And the potential of notarized digital identity, combined with biometrics to speed passenger verification, is a focus of our One Identity vision. This will be achieved through close collaboration between airlines, airports and governments.

So my "dream" travel experience could soon be a reality. Making that happen will need strong partnerships. "Innovating better together" really does capture what is needed most to turn great ideas into an even better travel experience. Even as we implement today's great ideas, we need to be looking for the next ones because the cycle of innovation is continuously accelerating.
Speeding infrastructure development is vital

No matter how much or how quickly we innovate our processes, there is no getting around the need to be both smart and quick in growing airport and airspace capacity. Providing infrastructure is the responsibility of governments. And experience tells us that the best results come when consultation with users keeps their needs in focus as the developments take place.

What's important?
We need sufficient capacity.
That capacity must be tailored for efficient operations and a pleasant passenger experience.
And it must be affordable. That means looking at what is built and how it is financed.
Today I would like to spend a few minutes talking about capacity because I fear that we may be headed for an infrastructure crisis.
Look at what is happening with air traffic management, or ATM. Our two biggest mature markets are a worry.
The Single European Sky initiative is failing. Earlier this year we did a study showing that the forgone benefits to the European economy resulting from this failure could exceed 245 billion euros in 2035. In the United States, air traffic management modernization is held captive to a politicized budgeting process and special interests. It's preventing much-needed improvements agreed to by nearly all airlines and air traffic controllers. And there are challenges in fast-growing regions as well. At times, near gridlock in the Gulf threatens the efficiency of hub operations, and efforts to reduce air traffic delays in China are being thwarted by growth in demand.
It is no less of a concern on the ground. Some governments, such as our hosts here in the UAE, are thinking and building ambitiously to keep pace with demand. But in many parts of the world there are bottlenecks—including in major hubs and destinations such as London, Sao Paolo, New York, Bangkok and Mumbai.
The use of the Worldwide Slot Guidelines (WSG) is a good indicator. They tell us where there is not sufficient capacity to meet demand. At present, airport slots are allocated at some 175 airports worldwide, 102 of them in Europe. Capacity issues are not limited to Europe, but clearly Europe faces a huge shortfall in both ATM and airports.
Inadequate infrastructure negatively impacts the passenger experience in the form of flight delays, longer routes and inefficient schedules. Then there is the cost to economies of lost business opportunities, employment and social development.
Putting all that together, the message to our friends in governments everywhere is that there are great benefits to be gained from working together to ensure sufficient capacity to support industry growth. Remember: aviation is a critical catalyst for economic and social development, supporting 63 million jobs and some $2.7 trillion dollars in economic impact.
By focusing on common interests, we can produce results in partnership
Earlier this month I witnessed that, with the agreement on a Carbon Offset and Reduction Scheme for International Aviation (CORSIA) at the Assembly of the International Civil Aviation Organization (ICAO). Industry understood the imperative of sustainability. It is also a concern of our customers and potential customers. With ICAO, the industry worked with governments to achieve the world's first agreement to offset the growth of an entire industrial sector.
Along with our investments in more efficient technologies, infrastructure and operations, we will ensure that aviation grows sustainably as we prepare to meet our long-term commitment to cut net emissions to half of 2005 levels by 2050.
It's what our passengers expect. And rightly so. Our mission is to link our world with safe, efficient, reliable and sustainable air transport. I call our industry the business of freedom. Aviation brings people and businesses together, enables global supply chains, and connects families and loved ones. It's a business that helps make people's lives better.
The work that you are doing over the next few days will help to ensure that these benefits continue to be widespread and that as an industry, we are able to meet and surpass the rising expectations of our ever-more connected and digital world.
I wish you a very successful conference.
Thank you!