​Good afternoon. Thanks for joining us for the round table as I conclude my first visit to India as IATA's Director General and CEO. India is always an interesting place to visit. It keeps you busy. If you are a businessperson, it is full of opportunity. If you are a tourist there are amazing things to see. And if you are in the aviation business....well, there are always lots of things that you would like to try and change!
Before I take your questions, I would like to update you on the key topics that I have discussed with the government, airlines and other stakeholders on this visit.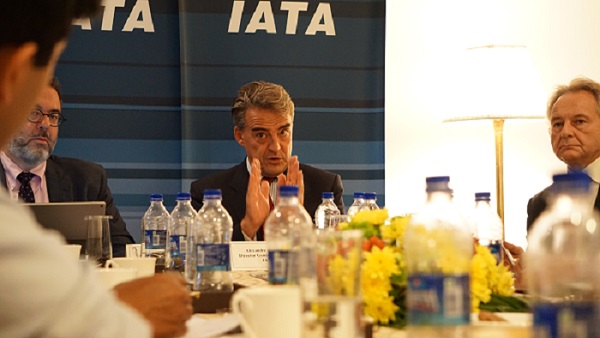 National Aviation Policy
The first was to congratulate India on achieving a National Civil Aviation Policy. It is a great achievement with some strong positive elements in areas such as:
Open skies
Code sharing, and
100% FDI in Indian airlines
I also have some concerns. Two of biggest are:
Mandating a hybrid till at Indian airports, and
Enforcing a levy to cross-subsidize regional flights
While highlighting these, my message to the government was that we should engage in a comprehensive discussion once the policy has had enough time to "mature"…but also before it is fully set in stone!
Infrastructure
I expressed our long-standing concerns about the slow progress on Navi Mumbai. And I encouraged the government to fully enforce the IATA Worldwide Slot Guidelines. Recently we have seen some activity in Delhi and Mumbai which does not comply with the guidelines. If left unchecked, this will undermine the system and create major problems for airlines. And it creates uncertainty for consumers and businesses that rely on regular connectivity.
But the main focus for my concerns on infrastructure is the need to tighten-up regulation around the airport public-private concession contracts.
The airports at Delhi and Mumbai offer a much improved passenger experience. And growth has been facilitated in the short-term. But, for the airlines, the improvements come with a price tag that is difficult to bear especially in the long-term. The high costs are partly because the government sees airports as a revenue generator and take up to 46% of top-line revenues.
A weak regulatory structure is also a factor. AERA has not been able to preserve its independence to defend the public interest. When the regulator supports an increase in charges, it is implemented almost immediately. But the decision to reduce Delhi charges by 96 % is stuck in litigation, and AERA has not been able to enforce its own orders. On top of this, the requirement for a hybrid till will make a bad situation much worse for airlines…and eventually for their passengers and the national economy.
The Indian airport experience has indeed improved significantly. Now we need to improve on the regulatory structure to keep national interests in focus and private interests in check. That's important. An airport is not just another investment. It is of strategic importance to the nation's social and economic development. And it's a monopoly. So it is important that business interests are balanced with those of the nation. And the only way to do that is with strong regulation---stronger than we have today.
Environment
I also expressed our disappointment that India did not come to the table as an early adopter of the Carbon Offset and Reduction Scheme for International Aviation (CORSIA) which was agreed at the Assembly of the International Civil Aviation Organization earlier this month.
It is an important agreement for aviation to fulfil its commitment to sustainability with carbon neutral growth from 2020. And I should note that
Other developing nations have signed on—China, Indonesia, Zambia and Kenya among them
It does not apply to domestic traffic
And it is not punitive. It offsets emissions by investing in projects that reduce carbon. And, unlike a tax, it aims to facilitate growth, not deter it
We hope that India will soon volunteer to come on board with CORSIA.
Taxes
And, while CORSIA is not a tax, India does have many taxes which are detrimental to aviation. You are, I am sure, familiar with our concerns about the negative impact of state fuel taxes and our opposition to service tax which we believe contravenes ICAO's rules. As India transitions to GST, we have called for a zero-rating for international flights. This call seems unlikely to succeed. To preserve the air transport sector's competitiveness and help it fulfill its critical role as a catalyst for development we would at least hope for an abated rate.
Potential
I will conclude on a positive note. Our 20 year forecast sees the number of Indian travelers reaching 442 million in 2035. That's more than triple the 120 million last year. And in 2025 India will become the world's third largest aviation market—surpassing the UK which had long-held that position.
That growth will be a catalyst for economic and social development—adding to the 8 million jobs and $72 billion in GDP that it already supports. It is for this reason that we are asking the government to review these issues to strengthen India's aviation industry and the future prospects for its national success and competitiveness.
Now I am happy to take your questions.