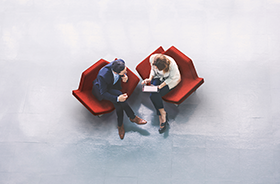 Montreal – The International Air Transport Association (IATA), in cooperation with the École nationale de l'aviation civile (ÉNAC) announced the expansion of their aviation training and education partnership to include aviation research and studies.
IATA and ENAC agreed to:
Jointly plan new advanced master programs by aviation sector (airlines and ANSPs) to be offered as of 2018
Collaborate on research projects in areas such as air traffic management (ATM), big data and remotely piloted aircraft systems, or RPAS (often referred to as drones)
Create internship opportunities for ENAC Master/PHD students to carry out research in support of projects of interest to IATA/ENAC.
"Aviation needs research to identify innovative solutions to meet the needs of a growing industry. A particular focus of our partnership with ENAC is gaining the benefits of technology integration into daily operations. More broadly, IATA and ENAC are blending industry expertise with academic rigor to help current aviation professionals keep pace with changes and to ensure that the next generation joins the industry well-prepared for its many challenges," said Alexandre de Juniac, IATA's Director General and CEO.
The IATA-ENAC courses, delivered 50/50 by each partner, will be given in IATA's Geneva offices and in ENAC's Toulouse campus; more locations will be added in the future.
"ENAC's relationship with IATA is an important building block for the future of the industry. We are honored to not only continue our successful collaboration, but to expand it to reach even more students and even more talented aviation professionals. Our partnership provides an exclusive opportunity to learn from the brightest in the industry at one of the top universities in the world," said Marc Houalla, ENAC President.
For more information, please contact:
Corporate Communications
Tel: +41 22 770 2967
Email: corpcomms@iata.org
Notes for Editors:
IATA (International Air Transport Association) represents some 265 airlines comprising 83% of global air traffic
You can follow us at http://twitter.com/iata2press for news specially catered for the media
ENAC is internationally recognized as the leading aeronautical university in Europe, providing a broad range of aeronautical and civil aviation training and research. A wholly-owned university under the Direction générale de l'aviation civile (DGAC), ÉNAC provides a complete range of 28 higher education programs from Bachelor up to Ph.D. degrees, including Master of Science, Technical Specialized Master and Master of Business Administration