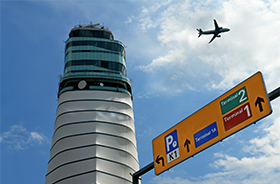 Geneva - The International Air Transport Association (IATA) welcomed the announcement that the Austrian Air Travel Tax will be halved from 1 January 2018.
The Austrian Ministers Council confirmed that the decision was taken to increase the attractiveness of Austria as a business and tourism destination, to secure the future of Vienna airport as an international aviation hub and to create jobs and increase economic development.
"In cutting its travel tax, the Austrian government has taken an important step in the right direction. This is great news for Austrian air travelers and for everyone thinking of visiting Austria for tourism or business. Other countries should take note, particularly Germany and the UK, which continue to heavily tax air passengers. In fact, the UK Chancellor has an opportunity in today's budget statement to signal that Britain is open for business with a major cut in UK Air Passenger Duty," said Alexandre de Juniac, IATA's Director General and CEO.
The new structure of the Austrian tax will be €3.50 for short haul, €7.50 for medium haul, and €17.50 for long haul. The cuts will create economic benefits, but these would be maximized if the tax were reduced to zero. Analysis by IATA in 2015 revealed that completely removing the tax would increase international travel by 2.7% and create 1700 jobs in the country.
"While the tax cut is good news, it is not the end of the story. There is more that the government can do to strengthen air transport in Austria. Ultimately, the tax should be scrapped completely. And Vienna airport needs a third runway. With expansion seemingly blocked in Munich and Zurich, the region is suffering from a lack of airport capacity. Austria has a golden opportunity to take a leadership position if it can put a vision forward for Vienna to be a major hub. And with the industry's strong environmental commitments, this can be done sustainably," said De Juniac.
Plans for a third runway at Vienna have been delayed by environmental concerns. The aviation industry takes its environmental responsibilities very seriously, with tough targets for carbon-neutral growth from 2020 and to halve 2005 carbon emissions by 2050. The industry pushed for a global agreement for a Carbon Offset and Reduction Scheme for International Aviation (CORSIA). In October last year the Austrian government was one of more than 60 countries worldwide that volunteered to implement CORSIA from 2021. Alongside this, the industry is investing heavily in new technologies and fuels that will reduce noise and emissions.
For more information, please contact
Corporate Communications
Tel: +41 22 770 2967
Email: corpcomms@iata.org
Notes for Editors:
IATA (International Air Transport Association) represents some 265 airlines comprising 83% of global air traffic.
You can follow us at http://twitter.com/iata2press for news specially catered for the media.