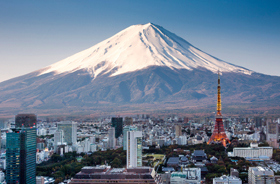 Translations: Enfoque colaborativo para impulsar la infraestructura aérea en Japón (pdf)
Uma reflexão conjunta é necessária para a infraestrutura do transporte aéreo do Japão (pdf)
日本の航空インフラに対する広い視野での考察が必要に-オリンピックは大変重要な変化を促す好機- (pdf)
Olympics are an Opportunity to Drive Critical Change
Tokyo - The International Air Transport Association (IATA) called on Japan to prepare its airport infrastructure for the 2020 Olympics and future growth of the tourism industry using joined-up thinking and extensive consultation with industry.
Japan has set aggressive targets for attracting international tourist arrivals. In 2016 Japan welcomed some 24 million international tourists. In the 2020 Olympic year, Japan hopes to welcome 40 million visitors, who are expected to spend some $70 billion (JPY 8.0 trillion). And the 2030 target is to attract some 60 million overseas visitors with expected tourism receipts of $130 billion (JPY 15.0 trillion).
Infrastructure Costs
Successful infrastructure planning will play a key role in the continued growth of tourism in Japan. The development of Tokyo-Haneda's international network, the cost reductions at Sendai and Kansai Airports; and continuous efforts to improve competitiveness by reducing costs and optimize infrastructure all are welcome developments.
"Not that long ago Japanese airports were the most expensive in the world. They are not cheap today, but Kansai and Narita have dropped from among the ten most expensive to 13th, and 23rd, respectively. We are moving in the right direction and there is still more to be done—particularly at Haneda which is bucking the positive trend by raising charges," said Alexandre de Juniac, IATA's Director General and CEO, in a speech delivered today to the American Chamber of Commerce in Japan.
IATA is calling for economic regulation of airports to ensure that there is a proper balance of public and commercial interests when charges are set. As critical national infrastructure, airports must play a role in building national competitiveness. However, as monopoly service providers there is not always the incentive to do so.
"It's a real issue for airlines. To be successful in a highly competitive environment, airlines have restructured and improved the efficiency of their operations. Doing so has allowed them to improve profitability even as average airfares fell by 45% since 2000. Over the same period, on a global basis airport costs have risen by some 29%," said de Juniac.
In recent weeks there have been some positive developments with agreements for charges reductions signed for Kansai and Sendai airports. "This is a positive start, particularly as Japan has no formal economic regulation in place. I hope that Japan has found a formula that will work long-term. The eyes of the world's aviation community will be following developments closely," said de Juniac.
Efficiency and Capacity
Along with being competitive and affordable, airports must also be efficient and provide sufficient capacity to meet market demands. In preparation for this growth, IATA urged a comprehensive plan for the development of a more competitive Japanese air transport infrastructure:
Smart Security: In January Japan's first Smart Security implementation became operational at Kansai International Airport. It is delivering a better passenger experience along with more effective security. With Smart Security implementation assessments having been completed at Haneda and Narita, de Juniac encouraged Japan to become a model for Smart Security implementation in time for the 2020 Olympic Games.
Terminal Efficiency: While Japan is a leader in self-service technology for domestic operations, many features are not available for international travelers. To maximize terminal efficiency in advance of the Olympic Games, IATA urged Japan's airports to prioritize enabling international travelers to take advantage of mobile boarding passes, kiosks and home-printed bag tags.
Airspace Efficiency: IATA expressed its support for the Collaborative Actions for Renovation of Air Traffic Systems (CARATS) to deliver the promised doubling of airspace capacity. Airspace is a particular constraint in Tokyo and IATA also called for government efforts to alleviate congestion by opening more airspace over central Tokyo. In the long-term, cooperation with US military authorities, which control significant parts of Tokyo's airspace, should also yield more capacity.
Low Cost Terminals: IATA recognizes the significant capacity enhancements achieved through the development of "Low Cost Terminals" at Kansai and Narita Airports. It, however, urged that costs and benefits of future developments be carefully considered. "All airlines want lower costs. So we should first maximize the utilization of capacity at existing facilities before building new infrastructure for a specific business model. And before terminals are built, proper cost-allocation and long-term commitments from the users are essential," said de Juniac.
Coordination: Tokyo will continue to be the primary gateway to Japan and there needs to be clarity on the long term roles of the Japanese capital's two airports – Haneda and Narita - so that capacity can be developed in line with market demands and with a well-coordinated and defined future vision.
Connectivity is Critical
"The Olympics are an important milestone and an impetus to get things done. But it must be part of a long-term joined-up planning process focused on the big prize of welcoming 60 million visitors to Japan annually —and keeping Japanese businesses and people efficiently linked to the world," said de Junaic.
Aviation accounts for 1.8% of Japan's GDP. In Korea, it is 3.1%. "The rapidly expanding tourist industry will help to close that gap. Much of this is with short-haul services by budget carriers. This is meeting a market need that will, for sure, continue to grow. But we mustn't lose sight of other important market segments as well.
Long-haul and hub connectivity also have potential for further growth. But the conditions must be right—sufficient capacity, efficient operations and affordable costs. To fully realize Japan's aviation potential, we need joined-up thinking and a clear long-term vision. There is a lot at stake. A healthy aviation industry generates both economic and social benefits that help people live better lives. Aviation is, after all, the business of freedom," said de Juniac.
While in Japan, de Juniac also addressed the Japanese International Airports Council.
See full remarks of Alexandre de Juniac at the American Chamber of Commerce in Japan.
For more information, please contact
Corporate Communications
Tel: +41 22 770 2967
Email: corpcomms@iata.org
Notes for Editors:
IATA (International Air Transport Association) represents some 265 airlines comprising 83% of global air traffic.
You can follow us at http://twitter.com/iata2press for news specially catered for the media.