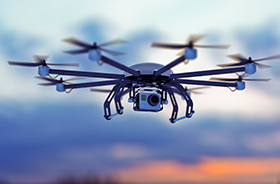 Translation: L'IATA accueille favorablement les nouvelles règles de sécurité sur les drones (pdf)
Montreal - The International Air Transport Association (IATA) welcomed the announcement by Canada's Minister of Transport, the Honorable Marc Garneau, to implement an Interim Order restricting the use of recreational drones around airports and other high risk areas.

The irresponsible or malicious use of small unmanned aerial vehicles (UAVs) near airports and aircraft poses a safety and security risk. According to Transport Canada, there were 85 incidents involving UAVs, also known as drones, in 2015. The number of reported drone incidents more than tripled from 41 when data collection began in 2014, to 148 last year (2016).
"The introduction of this temporary order will help protect airspace users and the travelling public. It is particularly important to draw attention to the key role that the Royal Canadian Mounted Police (RCMP) and local law enforcement agencies play in addressing the obvious safety risk posed by the reckless operation of UAVs. Looking ahead, advanced technology will provide new ways to appropriately regulate recreational, commercial and State UAV operations. Transport Canada plays a critical role in helping to develop these standards and regulations," said Rob Eagles, IATA's Director, Air Traffic Management and Infrastructure.
At the 39th Assembly of the International Civil Aviation Organization (ICAO) last fall, IATA and industry partners called for the development of standards and definitions to ensure global harmonization of regulations for UAVs and safe and efficient integration of UAVs into existing and new airspace. To assist states in defining and implementing unmanned vehicle regulations IATA, key industry stakeholders and civil aviation authorities worked with ICAO to develop a toolkit to provide states with operational guidance and regulations to enable operations in a safe manner. "In the face of an industry that is moving at an unprecedented pace, a smart approach to regulation and a pragmatic and firm method of enforcement is needed," said Eagles.
For more information, please contact:
Corporate Communications
Tel: +41 22 770 2967
Email: corpcomms@iata.org
Notes for Editors:
IATA (International Air Transport Association) represents some 265 airlines comprising 83% of global air traffic.

You can follow us at http://twitter.com/iata2press for news specially catered for the media.