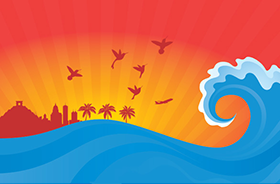 Translations: La AGM de la IATA se inaugura en Cancún. Andrés Conesa nombrado presidente (pdf)
Começa a Assembleia Geral em Cancun, Andres Conesa eleito Presidente da Assembleia (pdf)
Cancun - The International Air Transport Association (IATA) opened its 73rd Annual General Meeting (AGM) and World Air Transport Summit in Cancun, Mexico, with around 1,000 industry leaders and media in attendance. The meeting is being hosted by Aeroméxico.
"It is fitting that we are holding the 73rd AGM and World Air Transport Summit in a city that welcomes around five million visitors every year. Cancun is a brilliant example of the transformative powers of air transport. Aviation fuels its robust, vibrant and growing tourism economy. And that's part of a compelling story of aviation's benefits. About 63 million jobs and $2.7 trillion in economic activity depend on aviation. Our discussions in Cancun will be about making aviation an even more successful industry and facilitator of global prosperity," said Alexandre de Juniac, IATA's Director General and CEO.
The first order of business was electing Aeroméxico CEO Andres Conesa as President of the AGM.
"As this year's host, Aeroméxico is proud to welcome airline representatives to one of the world's favorite destinations. Mexico has had a historic year in terms of tourism, and air connectivity has played a vital role towards reaching that end. Now more than ever, those who participate in this industry must work together to make decisions that allow for continued sustainable development. Personally, it is a great honor to be named President of the AGM," said Conesa.
His election was followed by remarks to the AGM by Dr. Olumuyiwa Benard Aliu, President of the Council of the International Civil Aviation Organization (ICAO).
Hot topics on the AGM agenda include finding alternative means to keep flying secure without the inconvenience of the current laptop ban, combatting human trafficking, implementing the Carbon Offset and Reduction Scheme for International Aviation (CORSIA) and modernizing air cargo processes. Other sessions will focus on the future of globalization, disruptive innovation, trade facilitation, aviation security and the environment.
This is the third time the IATA AGM is being held in Mexico after two previous editions in Mexico City in 1966 and 1994.
Attendance at the AGM is by invitation only. Accredited media are invited to attend, but must be pre-registered.
For more information, please contact:
Corporate Communications
Tel: +41 22 770 2967
Email: corpcomms@iata.org
Notes for Editors:
IATA (International Air Transport Association) represents some 275 airlines comprising 83% of global air traffic.