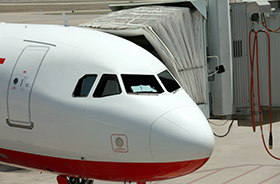 Moscow - The International Air Transport Association (IATA) called on the Russian Federation to implement global standards and best practices, in order to maximize the economic and social benefits generated by its growing air transport sector.
Strong demand for connectivity is evident in over 12% growth this year for passenger services and robust growth in air freight. The latest estimates show that aviation and aviation-enabled tourism supports 1.1 million jobs and 1.6% of Russian GDP.
The positive impact of global safety standards, including the IATA Operational Safety Audit, and investments in new aircraft are reflected in improved safety performance. There have been no fatal jet aircraft accidents by Russian carriers over the last three years. When looking at the all- accident data for 2016, however, there is still a gap between Russian performance (one accident per 400,000 flights) and the global average (one accident per 620,000 flights).
Further strengthening of aviation's economic and social benefits could be achieved with an even greater implementation of three key global standards.
IATA calls on Russia to:
Ratify Montreal Protocol 2014 (MP14), an important global treaty to give greater powers to states to prosecute unruly passenger behavior
Volunteer for the Carbon Offsetting and Reduction Scheme for International Aviation (CORSIA), a global agreement for a market-based measure to help achieve carbon-neutral growth for aviation by 2020. Seventy nations have already volunteered to implement CORSIA from 2021
Ensure that the benefits of the recently-ratified Montreal Convention 99 treaty are felt, by ensuring customs and border authorities are ready to accept paperless cargo shipments
"Russian aviation is on an upward curve. The new optimism can be seen in everything from the preparations to receive millions of visitors for the 2018 World Cup, to the desire to create a new generation of passenger jets. To write the next chapter in the successful development of Russian aviation, the country must continue to align with global standards and best practices. Ratification of MP14 and volunteering to join the CORSIA carbon offsetting agreement would send a powerful signal that Russia is taking a leadership position in global aviation affairs," said Alexandre de Juniac, IATA's Director General and CEO. De Juniac is in Russia meeting with government and business officials.
For more information, please contact:
Corporate Communications
Tel: +41 22 770 2967
Email: corpcomms@iata.org
Notes for Editors
IATA (International Air Transport Association) represents some 275 airlines comprising 83% of global air traffic.
You can follow us at http://twitter.com/iata2press for news specially catered for the media.