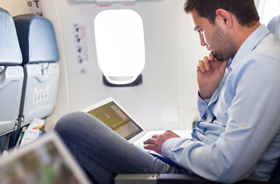 ​Translation: Déclaration (pdf)
The International Air Transport Association (IATA) welcomes the decision by the United States Department of Homeland Security (DHS) to require enhanced security measures as an alternative to restrictions on the carriage of large portable electronic devices in the cabin on all flights to the US. This includes the ability to remove the existing restrictions on certain flights departing from the Middle East and North Africa to the US.
IATA looks forward to working with our member airlines and DHS to implement this phased approach to enhanced aviation security, including ensuring that airline costs and operational impacts are minimized.
"Keeping our passengers and crew safe and secure is our top priority. This creates a natural partnership with governments, which have the primary responsibility for security. Today's actions raise the bar on security. The aggressive implementation timeline will, however, be challenging. Meeting it will require a continued team effort of government and industry stakeholders. In particular, airlines and airports will need to be supported by host states during the phase-in of the new requirements," said Alexandre de Juniac, IATA's Director General and CEO.
For more information, please contact:
Corporate Communications
Tel: +41 22 770 2967
Email: corpcomms@iata.org
Notes for Editors:
IATA (International Air Transport Association) represents some 275 airlines comprising 83% of global air traffic.
You can follow us at http://twitter.com/iata2press for news specially catered for the media.