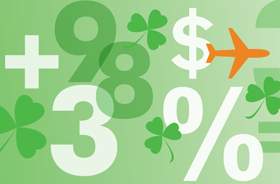 Geneva – The International Air Transport Association (IATA) announced that the 2017 World Financial Symposium (WFS) will focus on sustaining airline financial health and speeding delivery of industry initiatives to support this goal.

2017 will be another year of solid financial performance for the airline industry. It will also mark the third year in a row in which airlines will make an aggregate return in excess of their cost of capital. However, rising fuel, labor, and maintenance costs are squeezing earnings. Compared to 2016, profitability will dip.
The last few years have demonstrated that aviation is capable of delivering required levels of financial performance. WFS provides an opportunity to understand the challenges to achieving sustainable financial health over the longer term. It is also the forum to identify ways to accelerate activities supporting our goals of Smarter Regulation; Rebalancing the Value Chain; Innovation and Efficient Processes and Creating High Performing Financial Organizations," said Aleks Popovich, IATA's Senior Vice President, Financial and Distribution Services.
The WFS will be held in Dublin, Ireland, 27-28 September 2017. Specialized session tracks will address:
Total cost of distribution
Trends in risk management
IFRS 16
Digital finance
Payment strategies
Blocked funds
FinTech
Streamlining operations
New for 2017 is an "Innovation Jam Session." The invitation-only Strategy Summit will return for a second year.
​
For more information, please contact:
Corporate Communications
Tel: +41 22 770 2967
Email: corpcomms@iata.org
Notes for Editors:
IATA (International Air Transport Association) represents some 275 airlines comprising 83% of global air traffic.
You can follow us at http://twitter.com/iata2press for news specially catered for the media.