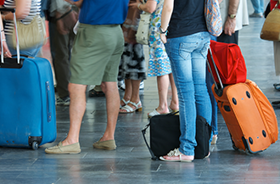 Translations:
Abu Dhabi – The International Air Transport Association (IATA) called for aviation security to be further strengthened by addressing four key areas;

closer government-to-government cooperation to eliminate the long-term challenges of extraterritorial measures,
the universal application of global standards,
better information-sharing among governments and with industry, and
the efficient implementation of new and existing technology capabilities.


"Governments and the industry are partners in aviation security. Airlines have operational know-how. Governments have the financial and intelligence resources. We have to put them together effectively in a continuous dialogue focused on improving security," said Alexandre de Juniac, IATA's Director General and CEO, in a keynote address to the IATA AVSEC World Conference in Abu Dhabi, United Arab Emirates.
De Juniac emphasized the point. "We cannot predict the next security challenge. But some things we do know for sure. Our common defense is stronger when governments and industry work together. And if we can avoid long term extraterritorial measures, focus on global standards, share information and develop technology efficiently, our hand is strengthened even further."
Extraterritorial Measures
Governments must avoid the long-term use of extraterritorial measures and ensure that airlines are not left to bear the financial brunt of unplanned expenses for an indeterminate period.
"Threats to aviation are real. And we understand that sometimes unilateral additional measures of an extraterritorial nature may be unavoidable. But these cannot be long-term solutions and airlines should not be caught in the middle, picking up the pieces and bearing unplanned expenses for an indeterminate period when governments cannot agree on measures needed for the security of their citizens," said de Juniac.
The US Transportation Security Administration (TSA) requirement that airlines conduct interviews with passengers flying to the US is an example of an extraterritorial requirement. "Such interviews are traditionally done by government authorities. In the short term airlines may seem to be the best positioned to conduct the interviews. But in the long-term, if governments believe that these interviews are critical, then governments themselves should work together to dedicate the resources needed to fulfil that function," said de Juniac.
Global Standards
Global standards are critical to effectively manage the security of a global industry. "States are responsible for implementing effective security measures. Annex 17 of the Chicago Convention - which has been in place for four decades – makes this clear. But shockingly 40% of states have struggled to implement even its baseline requirements. This is not good enough," said de Juniac.
De Juniac welcomed the development of the Global Aviation Security Plan (GASeP) by the International Civil Aviation Organization (ICAO) and urged its swift implementation. "Development and implementation are different things—as we clearly see with low levels of compliance to Annex 17 requirements. Capacity building will be critical. States will need to integrate the priority actions outlined in GASeP into their respective National Civil Aviation Security Programs if it is to be effective," said de Juniac.
Information Sharing
Better information sharing and coordination on security measures among governments and with the industry is essential. The failure to share information among states manifests itself in many ways. The differing responses by governments to the threats that resulted in this year's ban on Portable Electronic Devices (PEDs) on some routes by the US and UK is an example of the confusion that can result. At its most tragic, it is clear that failure to share information contributed to the loss of the 298 people aboard MH17.
"While governments have the primary responsibility for security, we share the priority of keeping passengers, crew and aircraft secure. Intelligence is key. This is the only way to stop terrorists. And we fully support the addition of an information sharing requirement to Annex 17 of the Chicago Convention. It is a step in the right direction, but it falls short of the true multi-lateral information sharing of risk information that is needed," said de Juniac.
Moreover, it is important for governments to extend information sharing to include airlines. "Airlines don't want access to state secrets. But if airlines understand the outcome governments want, they can help with the operational experience to deliver results effectively and efficiently," said de Juniac.
Technology
Technology plays a key role in keeping aviation secure. For example, the utilization of explosive trace detection (ETD) screening was integral to lifting of the US ban on large PEDs in the cabin. And the use of ETD will soon become an Annex 17 standard. IATA highlighted two areas for improving the development and use of technology:

Certification processes need to be streamlined and coordinated across jurisdictions. We fully support the work of the TSA Innovation Task Force and the UK's Future Aviation Security Solutions program (FASS). "It would be a shame if we cannot use the result of these efforts quickly and globally to accommodate repeated certification processes," said de Juniac.

Information technology should be employed more intensely so that passenger information can be referenced at airport checkpoints. "IATA's Global Passenger Survey highlights that passengers are frustrated with security and border control processes; and they are willing to share information if it makes these processes easier," said de Juniac. Biometric technology, identity management systems and the linking of "known traveler" programs for border control and passenger screening can all contribute to more convenient and robust security processes at airports.

Read Alexandre de Juniac's full speech

For more information, please contact:
Corporate Communications
Tel: +41 22 770 2967
Email: corpcomms@iata.org
Notes for Editors:
IATA (International Air Transport Association) represents some 275 airlines comprising 83% of global air traffic.

You can follow us at http://twitter.com/iata2press for news specially catered for the media.