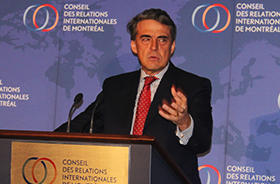 Translations: Remarques de Alexandre de Juniac au Conseil des relations internationales de Montréal (pdf)
Thank you for the very warm introduction and the invitation to address you today. It is always a pleasure to be here in Montreal. Aside from being a unique and energetic city celebrating its 375th anniversary, it is home to IATA's global headquarters.
And let me begin today with some thoughts on IATA's role.
First and foremost, IATA promotes safe, efficient, economical and sustainable global connectivity by air. To achieve that, we seek borders that are open to people and to trade. Without that, the positive impact of connecting people, goods, markets and ideas through air transport cannot be realized.
I believe that aviation is the business of freedom. It liberates people to live better lives. So we are deeply concerned with political developments pointing to a future of more restricted borders and protectionism. These deny the benefits of globalization to which aviation has made an enabling contribution.
Some argue that the tide of globalization has not lifted all boats equally. While acknowledging that view, it is undeniable that the world has become more prosperous with growing trade and travel. Aviation is proud of the role it plays in making this happen by safely transporting over 50 million tonnes of cargo and nearly four billion passengers annually.
Second IATA has a unique global view. With our 265 members we set global industry standards and facilitate their implementation. It's critical for a global industry that simply could not function with different systems and standards for each airport or destination. Because the rules are basically the same the world over, the 100,000 flights operating today will do so safely and efficiently.
We share this duty with the International Civil Aviation Organization (ICAO), which is also headquartered here in Montreal. The work that we have done in partnership with ICAO over more than seven decades is the foundation of the globally-connected world in which we live.
Third, IATA is involved in the global air transport business. Like all trade associations, we advocate for our industry. But we do much more.
On behalf of the industry we operate services that are critical for a global business. That includes our financial settlement systems, which annually process well over $350 billion, and the IATA Operational Safety Audit, which is the global standard for airlines in this most important area.

And to support the industry we provide products and services such as consulting, business intelligence and training.

Aviation in Montreal
With our headquarters here, IATA is a proud member of the Montreal aviation community.
The community is a strategic economic asset for Montreal. Along with IATA and ICAO, Montreal is also home to international organizations representing airports, pilots and air traffic controllers. Two of IATA's four Canadian members are based here--Air Canada and Air Transat. Calin Rovinescu, President and CEO of Air Canada, is a past Chairman and current member of IATA's Board of Governors. Bombardier and CAE are among the six IATA Strategic Partners located here. Aéroports de Montreal operates great airports served by some 30 airlines, most of which are IATA members.
Air connectivity is the key to success for any modern economy. Montreal's diverse community and business interests are well-connected to world markets. And work that is done in this city is shaping aviation globally.
Aviation also plays a critical role in Canada's economy—supporting nearly 600,000 Canadian jobs. Canada relies on an efficient air transport industry to link its vast geography and connect it to the world. Railways were a key to Canada's nation-building 150 years ago. Today aviation—the business of freedom—is existential for Canada's success and growth.
A transformative 15 years
Aviation in Canada and around the world has been through a transformative decade-and-a-half.
The way we travel is being changed by technology

Airlines' financial performance is improving

And the air transport industry has emerged as a leader in managing its climate change impact

Let's take those one at a time, starting by thinking about how you travel today. You use an e-ticket, probably check-in on-line and you may use a mobile boarding pass to navigate through the airport. All of that technology was introduced in the last decade. And it is built on innovative thinking and IATA's global standards.
Now we are modernizing how airlines sell their products through travel agents with global standards built for the internet age. It is a project called New Distribution Capability, or NDC. The name may sound bland, but it will progressively enable a richer and more transparent shopping experience. I am confident that it will unleash product innovations and options for travelers that will once again profoundly change how people travel.
These innovations are not only making life better for travelers, they are also contributing to a great turnaround story in airline financial performance.
Between 2011 and 2014 airlines were profitable even as the price of crude oil hovered around US$100/barrel. And in 2015 there was a great breakthrough. For the first time in history, airlines earned a profit in excess of the industry's average cost of capital. In 2016 airlines collectively made a record profit of $35.6 billion.
It is still, however, an incredibly tough business. Total industry revenues were some $701 billion. So the global net profit margin was just 5.1%. Put another way, on average airlines made about $9.43 per passenger. That is a lot less than what most governments—including Canada—take from passengers in taxes!
We expect this year to be another strong year—although a little down on 2016 as a result of higher oil prices.
Aviation continues to grow to meet the world's thirst for travel. This year we expect passenger numbers to reach 4 billion and over 55 million tonnes of cargo will be delivered to markets around the world by air. By value, that accounts for just over a third of goods traded internationally.
By 2035 passenger numbers are forecast to reach 7.2 billion. The air transport industry has stepped up to the challenge of doing that sustainably. Aviation's goal is to stabilize net emissions from 2020 with carbon neutral growth. And by 2050 we will cut our net emissions to half the levels of 2005.
We will achieve these goals with a combination of technology improvements, better operations and more efficient infrastructure. These measures, however will not come in time to realize carbon neutral growth from 2020.
So the industry united to ask governments to impose a global Carbon Offset and Reduction Scheme for International Aviation (also known as CORSIA) from 2020. Under the leadership of ICAO, governments agreed. And that historic achievement was reached a few blocks from here in the ICAO building in October last year.
Pause and think about this. I am not aware of any other industry that has asked to be regulated in a similar way and with real costs. It is quite remarkable. This gives aviation a strong platform to make demands on governments—to replace environmental taxes and charges with CORSIA, to remove inefficiency from air traffic management and to incentivize the use of sustainable alternative fuels.
In the Canadian context, that means:
Removing the patchwork of provincial environment measures so that there is alignment with CORSIA.

Creating more projects like the partnership at Montreal-Trudeau for the production of 400,000 litres of sustainable aviation fuels annually.

And continuing to be a recognized leader on air traffic management with the success of Nav Canada. In fact we are promoting it as the model for much-needed corporatization of US air traffic management.

Challenges
I am optimistic about the future of aviation. But it would be naïve not to acknowledge that there are challenges. I will spend a few minutes about one of our biggest global challenges—security—before addressing specific policy issues in Canada.
Security
For everybody in the aviation industry, safety and security are paramount. Government regulators and the industry have worked hand-in-hand to build an industry that last year performed 40.4 million safe flights. There were ten fatal accidents. Each is a tragedy and we strive to do ever better. You can, however, be assured that flying is the safest way to travel long distances.
Flying is also secure. But it's a real challenge to keep it that way as some tragedies demonstrate. Airport attacks in Brussels and Istanbul, an aircraft shot down over a conflict zone and an aircraft nearly destroyed by an explosive smuggled on board are all in recent memory.
Recognizing this, last September the UN Security Council challenged ICAO to deliver a Global Aviation Security Plan. It's needed and the industry is aligned to support a coordinated approach to security, including a measure requiring states to share information. ICAO, however, can only fulfil that vital need with the active support of its member states.
While governments have the primary responsibility for security, keeping passengers, crew and aircraft secure is a common priority with industry. To do that effectively information, or intelligence, is king. And it needs to be shared among governments and with the industry. It's the only way to stop terrorists before they get anywhere near an airport or aircraft.
And I should emphasize, airlines don't want access to state secrets. But if airlines understand the outcome governments want, they can help with their real world operational experience to deliver the result effectively and efficiently.
Last week's ban on large electronics for flights to the US and the UK from some airports is worth reflecting on. The industry came together quickly to implement the new requirements. That was a challenge because there was no consultation and little coordination by governments.
Now, along with our customers we are asking some questions that underpin confidence in our security measures:
Why don't the US and the UK have a common list of airports?

How can laptops be secure in the cabin on some flights and not others.....especially on flights originating at a common airport?

And surely there must be a way to screen electronic equipment effectively at airport checkpoints?

The current measures are not an acceptable long-term solution to whatever threat they are trying to mitigate. Even in the short term it is difficult to understand their effectiveness. And the commercial distortions they create are severe. We call on governments to work with the industry to find a way to keep flying secure without separating passengers from their personal electronics.
Aviation in Canada
Turning to Canada, the biggest aviation challenge can be summed up in one word—competitiveness. Canada's airlines compete vigorously domestically and internationally. Unfortunately they do so in a regulatory framework that in some cases seems more focused on generating direct revenues for the government than on enabling aviation's social and economic benefits.
We had some good news in the Federal Budget last week. Over-collection of security charges has been addressed. The provision of security services should not be a profit center for governments. And all travelers will certainly appreciate the additional investment to reduce security queues.
It would be good if that same thinking could be applied to address the issue of Crown Rents charged on airports. The Canadian government has already pocketed about C$5 billion as the historical landlord of airport property. That's a C$5 billion disincentive to travel, to visit this wonderful country or to plan a business trip. We recently estimated the positive economic impact of eliminating Crown Rents as boosting GDP by over C$300 million annually, creating more than 4,000 jobs and generating an additional C$111 million in tax receipts.
Unfortunately, current government considerations on airport privatization could make things worse.
Let me be completely unambiguous. Canada will regret it if the crown jewels are sold.
Airports should focus on enabling economic vibrancy in the communities they serve. That means providing sufficient capacity, with high service levels at affordable costs so that airlines can develop connectivity. Community owned airports—as is the case in Canada today—have every incentive to do so. Private companies, however, have a different goal which is to maximize profits for their shareholders.
We have not seen a regulatory framework anywhere in the world that has been able to successfully balance profit and public interest over the long-term. But we have seen airport privatization dent a country's competitiveness by increasing the costs of mobility and compromising service levels.
You don't have to take my word for it. Just look at the top airports and most dynamic air transport markets—Singapore, Hong Kong, Doha, Seoul, or Dubai. Not one is in private hands.
Fortunately, airport privatization did not appear in last week's Federal Budget. And we all hope that Transport Minister Marc Garneau's motivation to defend the interests of travelers will keep the idea on the back-burner permanently.
I am impressed by the government's openness to dialogue. That was clear in the review of the Canada Transport Act. So I am also hopeful for policy outcomes that aim to strengthen Canada's competitiveness in air transport. That aligns with our industry's call for Smarter Regulation. Essentially Smarter Regulation describes policy measures that create value by efficiently solving real problems with minimal compliance costs. And that enhances competitiveness.
The first step, and possibly most important one, in building Smarter Regulation is dialogue. Being an optimist, I hope that the Government's openness to dialogue will point it towards Smarter Regulation principles on issues as diverse as passenger rights, tax levels, and infrastructure development.
The Business of Freedom is Important
It's important that Canada gets its aviation policy right. As I said earlier, aviation is the business of freedom. It matters to real people—linking them with loved ones and helping them to expand beyond their local horizons. Aviation has the power to transform economies by connecting global markets. Aviation can preserve the enormous benefits of globalization in a skeptical world. And aviation can make Canada an even more prosperous and competitive nation.
These are certainties even in times of great change. I am confident that the Montreal aviation community will continue to be the driving force for the safe, secure, sustainable and profitable development of global aviation. We all have a stake in the business of freedom.
Thank you. Merci.