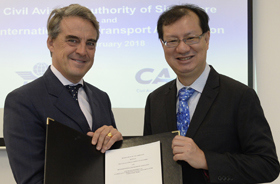 Geneva - The International Air Transport Association (IATA) and the Civil Aviation Authority of Singapore (CAAS) announced the signing of a Memorandum of Collaboration (MoC) to establish a Global Safety Predictive Analytics Research Center (SPARC) in Singapore. The MoC was signed by Alexandre de Juniac, IATA's Director General and CEO, and Kevin Shum, Director-General of CAAS.
SPARC will utilize predictive analytics to identify potential aviation safety hazards and assess related risks by leveraging the research capabilities in Singapore, and operational flight data and safety information that are available under IATA's Global Aviation Data Management (GADM) initiative. End users across the aviation community can then work collaboratively at the system level to address and implement appropriate safety measures to mitigate the risks, or even to prevent the occurrences of safety hazards.
The first area of focus for SPARC will be runway safety, such as runway excursions, which are the most frequent category of accidents in recent years, according to IATA's analysis.
"Safety is aviation's highest priority and all stakeholders are committed to making flying even safer. The accident investigation process will continue to be a fundamental tool in improving safety. However, as the number of accidents declines, we need to take a system-based, data-driven, predictive approach to preventing accidents, including analyzing the more than 10,000 flights that operate safely every day. The Singapore Government and the CAAS have been strong partners of IATA and we look forward to working with them through SPARC to help to take aviation safety to an even higher level," said de Juniac.
Kevin Shum, Director-General of CAAS, added, "CAAS and IATA have developed a strong partnership over the years. Together, we continue to work closely with the aviation community to enhance safety and facilitate sustainable aviation growth. The establishment of SPARC in Singapore is especially timely given the anticipated doubling of air traffic in the Asia Pacific by 2036. SPARC's predictive data analytics capabilities will help the aviation sector in Asia Pacific better anticipate, prioritize and address safety issues more effectively."
Achieving the cutting-edge approach to flight safety risk management as envisioned in the SPARC initiative will require a mindset change. Broad consultation and collaboration for knowledge sharing will identify the most effective applications of the safety information produced. In the coming months, the SPARC project team will be working closely with the industry and its stakeholders to develop safety predictive models to ensure that the output generated meets the industry's current and future needs.

For more information, please contact:
Corporate Communications
Tel: +41 22 770 2967
Email: corpcomms@iata.org
Michelle Teo
Assistant Director, Corporate Communications
Civil Aviation Authority of Singapore
Email: michelle_teo@caas.gov.sg
Tel: +65 6541 2086
Mobile: +65 9825 0982
Notes for Editors:
IATA (International Air Transport Association) represents some 280 airlines comprising 83% of global air traffic.
You can follow us at http://twitter.com/iata for news specially catered for the media.
Civil Aviation Authority of Singapore (CAAS) The mission of the CAAS is to grow a safe, vibrant air hub and civil aviation system, making a key contribution to Singapore's success. CAAS' roles are to oversee and promote safety in the aviation industry, develop the air hub and aviation industry, provide air navigation services, provide training for human resource development and contribute to the development of international civil aviation.
IATA's Global Aviation Data Management (GADM) initiative is a data management platform, integrating de-identified operational data received from multiple sources including direct user reports, and digital flight data.