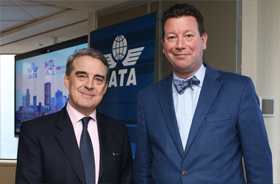 Translations:

L'IATA accroît ses activités au siège social de Montréal en y instaurant des services financiers clés (pdf)
Montreal – The International Air Transport Association (IATA) announced it is increasing its Montreal headquarters operations with the expansion of its Financial and Distribution Services (FDS) division. The move is expected to grow IATA's employment in Montreal to more than 400 with the addition of 27 full-time jobs—some newly created, others relocated from Geneva, Switzerland.
"Our decision to expand our operations in Montreal is an important strategic move for IATA. Since 1945 IATA has been headquartered in Montreal. Led by the presence of ICAO, Montreal is one of the world's great civil aviation hubs and a cost-competitive place for us to conduct our global business operations. In 2015 we moved the leadership of our Airport, Passenger, Cargo and Security Division to Montreal. And this latest move will enhance our presence even further," said Alexandre de Juniac, IATA's Director General and CEO.
IATA's mission is to represent, lead and serve the airline industry. Its 280 member airlines from 120 countries comprise 83% of global traffic. IATA's Montreal office provides critical services to the global aviation industry in areas that include safety, security, legal, training, passenger experience, technical audits and consulting.
This expansion of IATA's Montreal operations is part of the creation of a Global Delivery Center (GDC) where the back office functions for IATA's Financial Settlement Systems (FSS) have been consolidated into four locations. This allows IATA to better meet increasing expectations of airlines, travel agents, and freight forwarders using the FSS, which manages more than $400 billon of industry settlements annually. "IATA's financial settlement systems are the back office of the airline industry. They facilitate the selling, reporting, and remittance procedures of IATA-accredited passenger and cargo sales agents with some 400 participating airlines. Montreal will play a key role in the GDC which also includes Beijing, Madrid and Singapore. Working together across these locations, the GDC will ensure that the airline value chain benefits from the game-changing innovation that are transforming the financial services industry," said de Juniac.
"The expansion of IATA's Montreal head office will bring several high-talent professionals to the city and contribute significantly not only to the Montreal aviation hub but also to the Montreal economy," notes Hubert Bolduc, President and CEO of Montréal International. "It also helps reinforce Montreal's leadership position as the third largest aeronautical centre in the world, after Seattle and Toulouse."
Montreal is also home to the headquarters of the International Civil Aviation Organization (ICAO), the International Federation of Airline Pilots' Associations (IFALPA), Airports Council International (ACI), four original equipment manufacturers (OEMs) (Bombardier, Bell Helicopter Textron Canada, CAE and Pratt & Whitney Canada), and over 200 aerospace companies.
Other quotes
"The aerospace industry is a key economic driver for our country. The industry is a leader and a source of inspiration when it comes to innovation. It provides 211,000 Canadians with highly skilled, well-paying jobs, generating more than $28 billion in economic spinoff. We are proud to support the expansion of IATA in Montréal because its presence strengthens our industry and generates $16.7 million in economic benefits. There is no doubt that the implementation of these new programs in our city will revitalize the synergy that already exists in air transportation in Montréal and create numerous high-quality jobs."
− The Honorable Navdeep Bains, Minister of Innovation, Science and Economic Development and Minister responsible for Canada Economic Development for Quebec Regions (CED)
"We are delighted that IATA chose to expand its activities in Montreal. It is a great testimony to the city's assets: the recognition of Montreal as a hub for the aerospace industry, the quality of the ecosystem provided to international organizations and the quality of life it provides to its employees. This decision will enable IATA to benefit from the expertise of many more qualified workers from our province. It is with great enthusiasm that the Government of Quebec supported this expansion."
− Christine St-Pierre, Minister of International Relations and La Francophonie
"IATA's decision to farther expand its operations in Montreal reaffirms our city as a world civil aviation capital and a cost-competitive environment where high talent professionals from around the world converge. This move will undoubtedly benefit Montreal's capacity to play an important role in aviation industry.
− Valérie Plante, Mayor of Montreal and President of the Communauté métropolitaine de Montréal
IATA (International Air Transport Association) represents some 280 airlines comprising 83% of global air traffic.
Established in 1996, Montréal International is a non-profit organization funded by the private sector, the governments of Canada and Québec, the Communauté métropolitaine de Montréal and the City of Montréal. Its mission is to attract foreign investment, international organizations and skilled talent to Greater Montréal by providing assistance services tailored to their needs.
IATA media contact:
Corporate Communications
corpcomms@iata.org
Montréal International media contact:
Julie Brunet
Communications Advisor
514 987-9327
julie.brunet@mtlintl.com