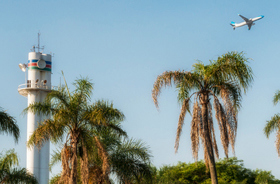 Translations: Spanish (pdf) Portuguese (pdf)


Santiago, Chile – The International Air Transport Association (IATA) called on the governments of Latin America and the Caribbean to focus on infrastructure, costs and the region's regulatory framework. By concentrating on these areas, the economic and social benefits of aviation can be maximized while accommodating the region's expanding demand for air connectivity.
Aviation already plays an important role in the region's economy, employing some five million people and supporting $170 billion in GDP.

"We need effective infrastructure to accommodate growth; reasonable costs and taxes that don't kill it; and a modern regulatory framework that supports it," said Alexandre de Juniac, IATA's Director General and CEO during a speech at the Wings of Change – Chile conference in Santiago.
Infrastructure
"Demand for air travel is outpacing both airport capacity growth and the upgrades to air traffic management systems. In the last decade the number of passengers carried by the region's airlines has more than doubled. And by 2036, we expect more than 750 million journeys will touch the region. Without concerted action today, we are headed towards a crisis," said de Juniac.
IATA called for the region's governments to work with industry to develop a long-term strategy that will ensure sufficient capacity, affordable costs and service and technical expertise aligned with user needs.
The region's key capacity challenges are Buenos Aires, Bogota, Lima, Mexico City, Havana and Santiago. "Unless they are addressed, Latin American economies will suffer. If planes cannot land, the economic benefits that they bring will fly elsewhere," said de Juniac. He highlighted Mexico City and Santiago as the most pressing:

Mexico City is the most critical of the bottlenecks. The current airport was designed for 32 million passengers annually but serves 47 million. "The solution is a new airport which is already under construction. But its future has been politicized in the current presidential election. The critical need for the new airport needs to be understood by all," said de Juniac.
In Santiago much-needed airport terminal capacity is being built but transparency is lacking, service levels are suffering and user costs are increasing. This threatens to upend the long-standing partnership between government, airlines and other stakeholders that helped create one the most advanced air transport hubs in the region and a thriving tourism industry.
Costs
"Latin America and the Caribbean is an expensive place to do business. Taxes, fees, and government policies create a great burden. Today governments see aviation as a revenue source. But it is more powerful as a revenue catalyst. Reducing the costs of doing business will pay big economic and social dividends," said de Juniac.

IATA cited several areas where the cost burden of government policies and taxes is excessive and counter-productive:

Brazil's fuel pricing policy adds $800 million in costs annually.
Ecuador and Colombia suffer from the exorbitant costs charged by monopoly fuel suppliers—made all the worse in Ecuador where there also is a 5% fuel tax.
Colombia has a connectivity tax, an exit tax and now the municipal mayors are planning to tax air travelers $5.00 to subsidize road infrastructure.
Argentina has high passenger fees made worse by the monopoly pricing and poor service of its only ground handling company.

In St. Lucia, taxes and fees (including the Airport Development Fee) are rising in order to repair roads and construct a cruise ship terminal.
Tourism taxes are rash across the region (Mexico, Colombia, Ecuador, Peru, Nicaragua, Jamaica and Costa Rica and St. Lucia), deterring tourists with higher costs.

Modern Regulatory Structure
IATA also called for governments across the region to evolve a modern regulatory structure with a focus on harmonization and mutual recognition of standards. While the region has been a pioneer in the evolution of trans-national brands, nationally-based regulation limits potential efficiency gains. For example, technical crew and aircraft cannot be utilized flexibly to maximum efficiency because safety policies do not recognize common standards across the region.

"Safety is our top priority. But safety is not improved with redundant processes. If an airline's crew is certified to a commonly agreed standard in Peru, is there a safety reason to prohibit them from operating domestically on routes in Argentina? Or vice versa? And if an aircraft is certified in Brazil to a commonly agreed standard, why should it need to be re-registered in Chile to operate?" said de Juniac.

IATA called for a comprehensive dialogue among the governments and airlines of the region to look for the efficiencies that can be generated through mutual recognition of common standards.

"Aviation already generates enormous benefits in Latin America and the Caribbean. Over a quarter of a billion people travel to, from or within the region and air transport generates some $170 billion in GDP. But for aviation to meet the upcoming passenger demand and deliver the economic and social benefits it is truly capable of, governments need to work together with the industry to help ensure they are realized," de Juniac said.

For more information, please contact:
Corporate Communications
Tel: +41 22 770 2967
Email: corpcomms@iata.org

Notes for Editors:
IATA (International Air Transport Association) represents some 280 airlines comprising 83% of global air traffic.
You can follow us at http://twitter.com/iata2press for news specially catered for the media.