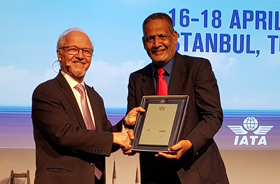 Istanbul– International Air Transport Association (IATA) Training awarded its 2018 Premier Circle winners as well as its Regional Top-performing Training Partners as a part of its prestigious training partner's recognition program. More than 450 IATA global training partners are evaluated on various criteria, such as the number of students trained, the quality of training delivered determined by the examination pass rate etc. Also measured is the growth in enrollments vis-à-vis the previous year. The excellence of these training partners contributes significantly to the development of the next generation of professionals.
The 2018 Premier Circle winners (in alphabetical order):
Aero Training Center, France
Akbar Academy of Airline Studies, India
Alhind Academy, India
ATNS Aviation Training Academy, South Africa
DGM , The Netherlands
IITC-India International Trade Centre, India
Japan Aircargo Forwarders Association (JAFA), Japan
Saudi Academy of Civil Aviation, Saudi Arabia
Speedwings Academy for Aviation Services, India
Turkish Airlines Aviation Academy, Turkey
The Regional Top-performing Training Partner winners adhered to a similar selection criteria as the Premier Circle winners in their respective regions. Winners include training partners from Africa & Middle East, the Americas, Asia Pacific, China & North Asia, Europe, and South Asia.

Prestigious awards for both the 2018 Premier Circle and Regional Top-performing Training Partners were delivered during award ceremonies at the IATA Global Training Partner Conference (GTPC) in Istanbul, Turkey today.
IATA congratulates all winners for their success and thanks them for their contribution in developing more than 100,000 participants and enhancing the skill levels of the global aviation talent pool.

For more information, please contact:
Corporate Communications
Tel: + 41 22 770 2967
Email: corpcomms@iata.org
Notes for Editors:
IATA (International Air Transport Association) represents some 280 airlines comprising 83% of global air traffic
IATA Training offers flexible training solutions in a classroom, distance learning, virtual or in-company format to meet all budgets and needs. Whether you are a new recruit, a specialist or senior management, our unique industry insight guarantees diplomas and courses that are engaging and effective. For more information please visit www.iata.org/training
View a complete list of IATA's network of Premier Circle and Regional Top performing training partners: www.iata.org/EPiServer/CMS/Content/en/training/trainingpartners/recognition/atc-recognition-program,,44473