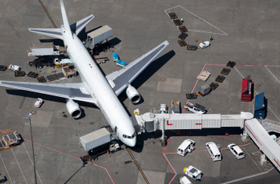 Geneva – The International Air Transport Association (IATA) provided evidence that the current system for allocating capacity at Europe's airports is benefiting consumers with greater choice and expanded connectivity.
Consumer benefits

Air passengers in Europe are enjoying an unprecedented level of choice and competition in air travel, despite the constraints imposed by a lack of new airport capacity. Passengers and the EU economy are benefitting from new routes and the growth of low-cost carriers and other new market entrants.
Analysis by IATA reveals that:
Airports classified at the highest level of congestion in Europe added 2,000 more routes in the 2010-2017 period.
Over the same period the number of long-haul routes grew by 27%
30% of European routes are now operated by two or more carriers, an increase of 5 percentage points since 2010.
A recent study commissioned by Airports Council International (ACI) Europe, from consultancy ICF, shows:
More than 55% of seat capacity on intra-Europe routes is competed between and full-service carriers and low-cost carriers, which have grown rapidly since the turn of the century
Over the past 20 years there has been a near-doubling in city-pair connections within Europe and between Europe and the rest of the world.
"European consumers have greater choice and more competition than ever before when deciding how they travel within or beyond Europe. This is no small achievement when you consider that Europe's airports are among the most congested in the world," said Alexandre de Juniac, IATA's Director General and CEO.
Slot Regulation working well

The ACI Report and IATA's research confirm that the rules for allocating scarce capacity at Europe's congested airports are fostering competition and growing connectivity. Europe has more than half of all the world's slot-constrained airports. The European Slot Regulation ensures that these airports provide opportunities for low-cost and full-service carriers to enter the market and provide competition and choice for passengers.
"The real solution to Europe's aviation capacity crisis is to build more airport and air navigation infrastructure. But we are already on the back foot and capacity is not keeping pace with demand growth. The European Slot Regulation has been successful for two decades—fairly allocating scarce capacity in line with global standards, enabling new entrants and strengthening connectivity. Most importantly it provides consumers with reliability and competitive choices. We strongly recommend that it remains a stable, consistent, and leading example of global best practice," said de Juniac.
Although the European Slot Regulation is working well, the airline sector recognizes that it could work even better. It is important that slot rules find a balance between (i) protecting the interests of incumbent carriers and consumers who value the services incumbent airlines provide; (ii) accommodating the desire of new entrants to enter the market and provide market competition; and (iii) enabling the market to adapt to changing consumer demands. To further these objectives IATA, ACI and the independent slot coordinators have formed a working group to look at improvements to the current system that is due to be reported to the ICAO Assembly in 2019.
Airport capacity declaration needs improvement
The slot rules can only make best use of the declared capacity at each airport. The inconsistency in declared capacity between airports of similar size is a clear sign that opportunities to unlock more capacity exist.
"Airports must do more to increase the operating capacity of existing infrastructure and governments need to encourage and facilitate timely and cost-effective expansion of congested airports and airspace. But this cannot work without the consistent application of transparent methodologies for determining available capacity. There is room for improvement. Only through regular and impartial analysis can all capacity become available for more slots to be allocated," said de Juniac.

For more information, please contact:
Corporate Communications
Tel: +41 22 770 2967
Email: corpcomms@iata.org
Notes for Editors: