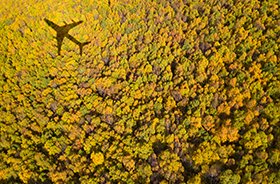 Translation:
La aviación celebra una década de reducción de emisiones y reafirma su compromiso (pdf)
Estratégia de emissões da aviação completa dez anos e setor reafirma compromisso com a redução de emissões de carbono (pdf)

Geneva – The International Air Transport Association (IATA) joined air transport businesses and associations to reaffirm its commitment to a sustainable future as the aviation industry marked ten years since agreeing an ambitious joint strategy for reducing carbon emissions.
"Ten years ago, the entire aviation sector committed to a joint strategy for carbon-neutral growth and to work towards a carbon-free future. That was a daring goal. But with hard work and solid commitment of industry and government, carbon-neutral growth from 2020 will be a reality. And we are already looking beyond. By 2050 we will cut our net emissions to half 2005 levels," said Alexandre de Juniac, IATA's Director General and CEO, speaking at the Air Transport Action Group (ATAG) Global Sustainable Aviation Summit here.
In 2008, as airlines reeled from the financial crisis, and oil prices were at historic highs, aviation leaders from the airline, airport, air navigation and aviation manufacturing sectors signed a Declaration, committing to a four-pillar plan for carbon reduction:
Investment in new technology (including sustainable aviation fuels)
Continuous operational improvements

Better use of infrastructure
A single global market-based measure
In the decade since, aviation has turned the Declaration into solid progress. Flying is 20% more fuel efficient. Sustainable aviation fuels have proven that they are effective. And a historic agreement reached at the International Civil Aviation Organization (ICAO) Assembly in 2016 —the Carbon Offsetting and Reduction Scheme for International Aviation (CORSIA) — will facilitate carbon-neutral growth from 2020.
The immediate priority on the aviation sustainability agenda is to successfully implement CORSIA as the single global market-based measure. "Persuading more states to volunteer for CORSIA is important. In tandem, we are working with governments to prevent actions that undermine the agreement, such as the unilateral implementation of environmental taxes. The ICAO Assembly next year provides an opportunity for governments to reaffirm CORSIA as the single global measure for aviation climate mitigation. It's a top priority for CORSIA to be effective," said de Juniac.
Reducing carbon emissions to 50% of 2005 levels by 2050 (2050/minus 50) will be an even greater challenge.
"Progress in technology, operations, and infrastructure – especially air traffic management - will match or better our fuel efficiency achievements of the past decade. But our 2050/minus fifty goal will test our resolve even more. We will not move forward on a consistent glide path, but we are on the right trajectory. The industry is ready for the next step-change in technology in the 2030s: hybrid and electric planes, and the large-scale rollout of sustainable fuels," said de Juniac.
For more information, please contact:
Corporate Communications
Tel: +41 22 770 2967
Email: corpcomms@iata.org

Notes for Editors:
IATA (International Air Transport Association) represents some 290 airlines comprising 82% of global air traffic.
You can follow us at http://twitter.com/iata for announcements, policy positions, and other useful industry information.
More information on the aviation industry's 4-Pillar strategy for managing its carbon emissions can be found in this factsheet.