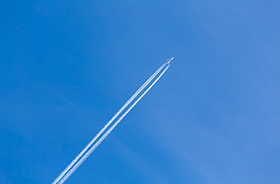 Panama City, Panama -The International Air Transport Association (IATA) urged governments in Latin America and the Caribbean to maximize the economic and social benefits of aviation. Aviation currently supports 7.2 million jobs and $156 billion in economic activity across the Latin American and Caribbean region. That represents 2.8% of all employment and 3.3% of all GDP in the region.
"While these are impressive numbers, aviation's contribution could be even greater. For example, in the Middle East region, air transport supports 3.3% of all employment and 4.4% of GDP. Achieving the same levels in Latin America would mean another 1.3 million jobs and an additional $52 billion in GDP contribution, said Alexandre de Juniac, IATA's Director General at the Airline Leaders Forum organized by the Latin American and Caribbean Air Transport Association (ALTA).

De Juniac urged governments to focus on enhancing competitiveness and improving aviation infrastructure, while working toward regulatory harmonization across the region.
Competitiveness
"Latin America is a very expensive place to do business. Taxes, fees, and government policies impose a huge burden on airlines and stifle air travel by making it costlier than it would be otherwise," said de Juniac. For example:
Brazil's jet fuel pricing policy inflates airline costs by $255 million annually

Mexico has a handling fee in the jet fuel pricing formula that adds an extra $45 million per year.
Peru has a tourism promotion tax on tickets, making it a less competitive destination; and its collection of VAT on overflight charges and international tickets adds to the cost burden while contravening ICAO standards.
Barbados recently imposed a $70 per ticket tax for long haul flights and $35 for travel within the Caribbean community making it a more-costly destination.
"These are just a few of many examples, all illustrating that too many governments see aviation and air travel as targets for heavy taxes and fees, rather than as a catalyst for economic growth and job creation. That is short-sighted," said de Juniac.
Colombia provides a contrasting example. "In 2015, Cartagena airport reduced its airport fee from $92 to $38. What happened after that? Tourism arrivals rose by 38%. The additional tourist spend will do much more for the local economy than the airport fee ever could," said de Juniac.
Infrastructure
De Juniac also emphasized the need for adequate infrastructure to support current requirements and future growth. "The capacity challenges at key hub locations such as Buenos Aires, Bogota, Lima, Mexico City, Havana and Santiago are well documented. Unless they are addressed, the region's economies will suffer." He cited examples of unhelpful infrastructure actions:
In Mexico, it is extremely disappointing that the government intends to cancel the project to build a new international air hub for Mexico City at Texcoco. The economic impact of not constructing a world class hub will be felt in jobs and economic growth. Today's decision is a setback for the airline industry and the Mexican economy. (For further detail see Notes to editors.)
In Peru, long delays in constructing a new terminal and runway at Lima have impacted the country's development as a regional hub.
In Jamaica, the government plans to invest $60 million in funds raised from passenger charges for an unnecessary runway extension at Montego Bay. The money could be better spent on improving the passenger experience at the airport.
De Juniac noted that there have been some positive developments, including partnering with the Argentine, Aruban and Brazilian authorities to support their efforts to adopt a modern and collaborative approach to airport planning that benefits all stakeholders. He also welcomed the Chilean government's recent reductions in the airport facility charge that will boost its competitiveness by almost $418 million through 2022, compared to the original charge schedule.
Harmonization

Regulatory harmonization is also essential. "Airlines in the region are at the forefront of creating multi-national business models. Consumers have benefited with access to bigger route networks and more connecting options. However, the full scope of potential efficiencies is not being realized, because regulations remain nationally-based in areas like training, licensing and aircraft registration. This denies opportunities such as the ability to easily move aircraft and staff around an airline's network to match market requirements," said de Juniac.
Recently, there have been some positive steps. "Brazil liberalized its regulations on aircraft interchanges, making it easier to transfer aircraft belonging to the same parent company into the country. And in Central America, the six Cocesna member states passed legislation standardizing the requirements for all aeronautical licenses—pilots, cabin attendants, technicians and so forth--so that a license in one state is valid across all Cocesna states [Belize, Costa Rica, El Salvador, Guatemala, Honduras, Nicaragua].
"Far more needs to be done. It is past time for a serious discussion among regulators and stakeholders to find ways to unlock additional value from the restructurings that have taken place in Latin America," said de Juniac.
Read the Remarks of Alexandre de Juniac at ALTA Airline Leaders Forum

For more information, please contact:
Corporate Communications
Tel: +41 22 770 2967
Email: corpcomms@iata.org
Notes for Editors:
IATA (International Air Transport Association) represents some 290 airlines comprising 82% of global air traffic.
You can follow us at http://twitter.com/iata for announcements, policy positions, and other useful industry information.
According to an IATA study (pdf), if the new airport is not built, it will mean 20 million fewer passengers per year by 2035. This translates into a negative impact of up to $20 billion in future GDP contribution and up to 200,000 fewer jobs in Mexico supported by aviation in 2035.