Thank you for the kind invitation to join you in marking the 50th Anniversary of Mauritius. What this country—and its airline—have achieved over the last five decades is truly remarkable. What better way to celebrate than with a day focused on issues critical to unlocking the benefits of aviation to support economic and social development?
Congratulations to Dr Arjoon Suddhoo, Chairman of Air Mauritius; Somas Appavou CEO of Air Mauritius and all the team at Air Mauritius. The IATA team has greatly enjoyed working with you on this project. And the result is a comprehensive program that has enticed a great many industry leaders to this magical island.
I should also extend our gratitude to the sponsors—Airbus, Rolls Royce, Sugar Beach, Aer Cap and Embraer—who joined forces to make today possible. Aviation is a team effort. And that is certainly true for this event.
Above all, I would like to thank the Honorable Pravind Kumar Jugnauth, Prime Minister of Mauritius for his participation. It shows how important connectivity is to this country. We are all looking forward to your discourse.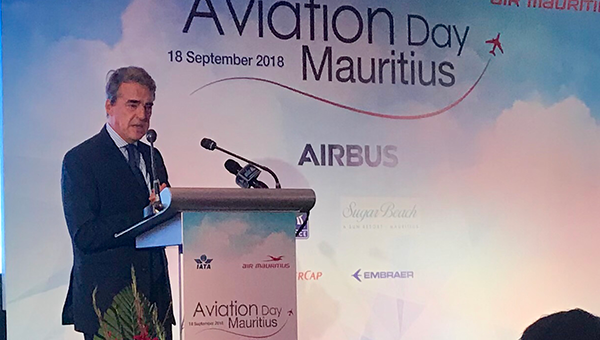 In advance of that, please allow me to share some thoughts on the critical role that aviation plays as a catalyst for the economic and social development of a nation.
In preparing these remarks, I reflected on the history of Mauritius. Allow me to share some observations.
From the very earliest days, distance was among the greatest challenges facing Mauritius. The early explorers could see the potential. But it was a long and often treacherous journey by sea.
As transport links stabilized, the country grew stronger with diverse waves of immigration bringing the skills and determination needed to put Mauritius on the map, based on a strong foundation of agriculture.
But not everyone was convinced of a bright future. And even as late as 1961 Professor James Meade made very pessimistic predictions.
Yet here we are today. Mauritius is a thriving economy of 1.4 million people. Per capita GDP is in the top three among African states. The economy is a diverse mix of financial services, traditional agriculture, world-class tourism, technology, trading and manufacturing. Nobel prize-winning economist Joseph Stiglitz has called Mauritius an economic miracle.
How did that happen? There are many reasons, including a focus on universal education and healthcare; and a stable government with strong institutions. But it is no coincidence that the birth of Air Mauritius pre-dates independence by a year. The leaders of this country understood that air connectivity was important to the success of Mauritius. And Air Mauritius was founded with a mandate to link the country to the world, support trade and tourism and stand on its own two feet economically.
That is a challenging mandate. Competition is stiff. Fuel prices are high. And you never know what shock might come next.
These challenges are not unique to airlines of small island developing states. But they are accentuated by remoteness, small local populations and the difficulty of achieving economies of scale with long thin routes.
But Air Mauritius and other similar airlines fulfil a vital role for their nations. A soon to be released study by the Air Transport Action Group shows that aviation promotes 1.4 million jobs and about $32 billion of GDP in small island states. That's more than 10% of total employment and nearly 14% of total GDP. They are a source of economic vitality.
Anniversaries are about looking ahead. And, understanding the powerful role that aviation has played in Mauritius so far, the question is what can be done to make it even more potent in driving development and prosperity?
There is no magic answer. But four themes come to mind:
Be safe
Align with global standards
Focus on competitiveness, and
Look for ways to cooperate
Safety
Everything in aviation starts with safety. Mauritius can be proud of its solid record on safety. It scored nearly 70% on implementation of International Civil Aviation Organization (ICAO) standards in the ICAO Global Aviation Safety Program. While that is above the threshold of 60%, the goal should always push towards 100% compliance.
Implementing global standards is part of the Abuja Declaration's commitments which also call for states to use the IATA Operational Safety Audit (IOSA). IOSA delivers results. The 34 African carriers on the IOSA registry are delivering world-class safety levels. And that is three times better than African carriers not on the IOSA registry.
This gives us confidence in asking African governments to fulfil their Abuja Declaration commitment to recognize IOSA in their regulatory frameworks. We are already working with Zimbabwe and Rwanda on this. I encourage Mauritius to join them in taking a leadership role.
Alignment with global standards
Global standards are the foundation for global connectivity. And their value goes well beyond safety.
Environment, for example, also needs a global standard approach. The landmark Carbon Offsetting and Reduction Scheme for International Aviation (CORSIA) agreement achieved through ICAO puts aviation in the lead among industries in responsibly dealing with this important issue.
As an island nation, the potential consequences of climate change—including rising sea levels and severe weather—are very real. So I encourage Mauritius to show solidarity and join the 70+ states participating in CORSIA from the voluntary period.
For the airlines present, I will also remind you that emissions reporting for all airlines starts from January 2019. If you are struggling, we have the tools and people who can help. My colleague Paul Steele will have a full presentation on this topic later today.
Focus on competitiveness
My next message is to focus on competitiveness.
Mauritius ranks 55th in the World Economic Forum's Travel and Tourism competitiveness report. Along with South Africa (which ranks 53rd), it tops the ranks of African states. And it ranks tops in Africa for elements such as business environment, safety & security, human resources and so on. The highest ranking is for prioritization of travel and tourism in government policy. For that, Mauritius is world leading at number 4, just behind Malta, Singapore and Iceland.
Price competitiveness, however, is among the weakest points. Mauritius ranks 116th. Included in this is a 115th place ranking on the competitiveness of ticket taxes and airport charges. And Mauritius is 89th on the competitiveness of fuel price levels. These are big pain points for airlines. Policies to improve competitiveness in these areas would boost aviation's ability to deliver its economic benefits (1).
Infrastructure also plays a big role in competitiveness. The airport is probably the most valuable few kilometres of concrete ever poured on this island. The return on the investment for the economy is immense and must be carefully managed.
The 2013 terminal expansion brought capacity to about 4 million passengers annually. And in 2017 passenger numbers already reached 3.7 million. So there is no time to rest on your laurels.
The government's just announced plan to develop an airport master plan for 9 million passengers is a fundamental next step. There must be an open dialogue with the airlines to ensure that development provides sufficient capacity, technical excellence aligned to airline needs and affordable costs.
Technology is another important consideration. This industry is undergoing a digital revolution that can deliver great efficiencies for airlines and infrastructure providers. My colleague Eric Leopold will speak about this later today.
A close eye must be kept on costs. A celebration about the benefits of connectivity is not the time to haggle over infrastructure costs. But I have not heard of any airline say that doing business at the airport is cheap. So, at a minimum, the current airport charges here are not a competitive advantage.
The best global best practice is to establish an independent regulator. She or he would focus on keeping airport and air navigation charges competitive. This would be done by following ICAO principles which state that charges must be non-discriminatory, cost-related, transparent, and agreed in consultation with airline users.
Cooperation
Mauritius has impressive connectivity. But there are many markets that have still to discover Mauritian hospitality. And no single airline can provide the connectivity that is needed.
It is not my job to comment on commercial strategy. But it is clear that the partnerships that Air Mauritius has with South African Airways, Kenya Airways, Air France and Emirates enhance the nation's connectivity.
Still, there is probably a lot of untapped potential.
Looking west, there are opportunities to link with fast-developing Africa. There is certainly more connectivity between Mauritius and Dubai than there is to any African location.
And, looking east, there are rapidly developing economic ties between Africa and Asian markets like China and India.
I understand that work began a few years ago on a plan to link Africa and Asia via Singapore and Mauritius. Recent developments could breathe new life into this initiative.
The volume of ties between Asia and Africa continues to grow.

New aircraft technologies are changing the economics of long-thin routes.

And Mauritius is well-placed to grow its footprint in Africa.

It is accessible—only requiring visas from six African countries.
Cooperation with South African Airways and Kenya Airways opened two gateways into the African continent, and
The Single Africa Air Transport Market creates the potential for even broader connectivity.

All this leads me to ask the question: could Mauritius could evolve as a one-stop hub efficiently connecting Southern African markets to points in Asia-Pacific?
As you can tell, I am an Africa optimist. China and India dominate discussions of growth today, But Africa is the real untapped market of the future. The land mass is huge. The continent's population rivals China or India. It is getting richer. And for sure Africa's future development will demand increased connectivity.
Thinking Big
As we celebrate the first half-century of Mauritian success—let's keep in mind the critical role that aviation has played. And as you look to the next fifty years, aviation will continue to be a pillar of the economy—one that is worth supporting with a determined strategic focus.
The key elements of any aviation strategy are safety, global standards, competitiveness and cooperation—what we have just discussed. But Mauritius and other small island states have a critical competitive advantage in implementing an aviation strategy—and that is size.
Why do I say that?
First, as we saw with the World Economic Forum rankings, Mauritius already has a strong common focus on promoting tourism and transport as an economic driver.
Second, Air Mauritius—at the core of the connectivity value chain—has served the country well, is a respected leader in the region and has served in the past on the IATA Board of Governors, and
Third, the country is small enough to rally the aviation universe—the airlines, the airport, the tourism infrastructure—to agree a strategy and to get it implemented quickly and nimbly.

The goal is to enable aviation to drive economic growth. That will mean a successful future for Air Mauritius—the home-town carrier that will serve the market as a lifeline in good times and in bad. And it will create opportunities for other carriers to augment the prosperity that aviation brings with robust competition.
There are impressive precedents for this approach. Look no further than the UAE. Fifty years ago, who would have thought that an airstrip in the desert could change the face of aviation in the way that the UAE has? It is no accident. It is the result of a comprehensive multi-stakeholder strategy to generate economic growth and employment with connectivity.
That should inspire some big thinking.
By harnessing and aligning the energy of all the players in the travel and tourism sector to focus on connectivity, I have every confidence that Mauritius and other small island developing states can and will achieve even greater prosperity.
Business of Freedom

I know that I am probably preaching to the choir in reminding the government and industry here that aviation is critically important for the future of this country. But let me conclude with a personal reflection that guides my thinking.
I believe that aviation is the business of freedom.
We know that aviation brings in the tourists, that it connects us to family and friends, and that it is a catalyst for economic, social and educational ties. The post-independence success story that is Mauritius today would be very different without connectivity that can only be facilitated by air. Aviation imparted some of the freedom to develop on this wonderful island.
I hope that these thoughts will inspire the government, the infrastructure operators, the airlines and all the travel and transport value chain to plan and to work together and maximize the potential of the next 50 years of the business of freedom in Mauritius.
Thank you.
Notes:
1. Jet fuel product price has increased by around 40% compared to a year ago. In Mauritius, the airlines face even tougher challenges as the jet fuel price that airlines currently pay at MRU are over 12% higher than the average price at European airports.