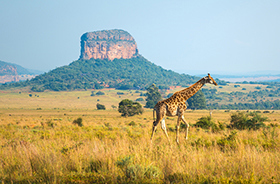 Johannesburg/Pretoria - The International Air Transport Association (IATA) presented its latest study on the economic value of air transport and tourism to South Africa, and identified opportunities for significant expansion over the next 20 years if key policy reforms are made.

In 2017, 20.9 million passenger journeys were made to, from and within South Africa, with aviation and tourism representing USD 9.4 billion in gross value added. It accounts for 3.2% of South Africa's GDP and supports 472,000 jobs. Over the next 20 years the South African market could more than double in size, resulting in 23.8 million additional passenger journeys, over 372,000 more jobs, and a total of USD 20.2 billion in GDP by 2037.

IATA identified three areas where government action can enable aviation to continue its growth trajectory and generate even more value in South Africa:

Reform harmful policies on immigration;
Reduce taxes and charges that are increasing the cost of doing business in the country;
Undertake a harmonized strategic approach to policy-making with transport and aviation central to economic planning.
"The results of the study are a reminder that robust air connectivity unlocks significant economic and social benefits. I call aviation the business of freedom. Air transport creates jobs, facilitates tourism, supports international trade and is an engine of economic activity. With more than 20.9 million passengers departing and arriving from airports in South Africa every year, there is good reason to be proud of all that aviation has achieved here. However, while these are robust numbers, we are concerned by the respective Q1 2019 4.4% and 3.6% contractions in the transport and tourism sectors, which reflect uncertainties and diminished confidence. Government policy reforms to promote business, trade, investment and tourism are essential to make the most of air transport to the benefit of the South African people and economy," said Alexandre de Juniac, IATA's Director General and CEO.
Recent continental developments also hold promise for South Africa. "The implementation of the Africa Continental Free Trade Area and the accompanying Single African Air Transport Market intended to underpin it, are initiatives that will benefit South Africa and other countries with business and trade enabling policy and legal frameworks," added de Juniac.
Read the full report of The Importance of Air Transport in South Africa (pdf)