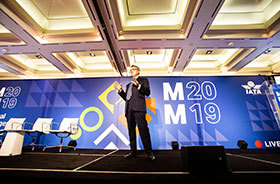 Geneva - The International Air Transport Association (IATA) announced changes to its Strategic Leadership Team and corporate structure. The changes will enable IATA to better serve its customers and stakeholders as the association implements a strategy focusing on its core competencies of standard-setting and adoption, advocacy, and services and products.
Effective 1 January 2020, Aleks Popovich (currently Senior Vice President for Financial and Distribution Services) will lead a newly formed Customer and Business Services (CBS) division. Customer and Business Services will manage the operations of IATA's industry settlement systems, central sales and marketing, and its customer service.
Effective 31 December 2019, Mark Hubble, IATA's Senior Vice President for Aviation Solutions, will retire from IATA after 16 years of service. The Marketing and Commercial Services division which he led will be dissolved, with its functions largely incorporated in the newly formed Customer and Business Services division.
Effective 1 January 2020 a newly formed Financial, Distribution and Data Services (FDDS) division will group the association's work on digital transformation, efficient industry processes, product differentiation and business intelligence. This division will replace the former Financial and Distribution Services division. Popovich will lead FDDS on an interim basis until a recruitment process is completed.
Progressively, some 50 positions will be added to IATA's advocacy capabilities. Many of these will be within the Member and External Relations division (MER). MER is currently being led on an ad interim basis by Brian Pearce, IATA's Chief Economist, following the retirement earlier this year of Paul Steele as Senior Vice President Member and External Relations.
Director General and CEO
IATA also announced that its Board of Governors will recommend an extension of the term of office of Alexandre de Juniac, IATA's Director General and CEO, to the association's Annual General Meeting which will take place in Amsterdam 22-23 June 2020. De Juniac's current term is due to end in August 2020.