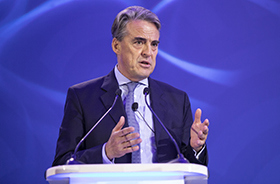 The Colleagues, ladies and gentlemen

I am pleased to say that your Association has had an excellent year. And our finances are in very good shape. Your Chairman will provide a full report on IATA's activities under his leadership later this morning.

Before that, I will take this opportunity to highlight some key activities that I have followed particularly closely.

Membership

The strength of our association is our members. Membership in IATA today stands at 291 airlines. Together our members serve 82% of global demand for air transport—both cargo and passenger.

Since we last met 13 airlines have seen the value of joining IATA. Let's take a moment to recognize them with a round of applause:

Air Dolomiti
Congo Airways
Cyprus Airways
Fuzhou Airlines
G

ermania Flug

Hong Kong Air Cargo
Kunmin

g Airlines

Ravn Alaska
Solomon Airlines
SpiceJet
Thai Smile
Urumqi Air
XL Airways France
These new members represent a variety of business models which will add to the diversity and richness of the IATA membership.

Download high-resolution video

Our roots are with network carriers—airlines that need to interact with other airlines to serve their customers. But IATA today is much more diverse. Nearly 20% of our membership classify themselves as low cost or hybrid carriers. Our new member SpiceJet is a good example of the low-cost carriers that are joining our ranks.

I would also point out Thai Smile and Air Dolomiti—carriers that are part of traditional airline groups. As airlines diversify the flying within their groups, this is another important area of recruitment. It is the duty of IATA management to demonstrate the value of membership to these airlines. But I do encourage you to lend your support when they are considering membership.

Senior Management Changes

I would also like to note some senior management changes.

In March, Ma Tao joined IATA from the Civil Aviation Administration of China as our Regional Vice President for North Asia. Having previously served as China's permanent representative to the International Civil Aviation Organization, he will bring strong leadership to the very important markets of North Asia.

You will have noticed that Karen Clayton is on the stage making sure that we stay within the rules at this meeting. Karen joined us from Air New Zealand in April, taking over the Corporate Secretary part of Paul Steele's responsibilities.

Paul, our former Corporate Secretary and current Senior Vice President for Member and External Relations will be retiring from IATA shortly after the ICAO Assembly concludes in October. He has provided extraordinary services to IATA and the industry over twelve years. Paul is best known for his astute diplomatic skills which successfully helped to establish the landmark CORSIA agreement. We are currently recruiting for a successor to that role.

In the meantime, I would ask you to join me in a round of applause to welcome Karen and Ma Tao; and to wish Paul a successful ICAO Assembly (we will keep him working to the very last minute) and a happy retirement to follow.

Financial Services
I can assure you that our settlement systems are operating at the high levels of efficiency and accuracy that you expect. In 2018, the BSP, CASS and Clearing House processed $348 billion of your funds.

As ever, we are determined to make our services safer, faster and cheaper. To that effect, the NewGen ISS rollout has reached 58 markets representing 42% of total settlements. By year-end it will cover markets representing 90% of total settlements. And we remain on target for 100% during 2020.

The Transparency in Payment initiative enables airlines to decide which payment method to accept from agents in full knowledge of the costs involved. This is particularly important for some credit card types that are notoriously expensive. The initiative is now integrated into BSP operations covering 62% of credit card volumes and we are aiming for 95% by year-end.

The global scope and scale of IATA's settlements systems is a major strength for our industry. It helps us to continuously reduce costs and improve efficiencies. For example, since 2015, BSP average operating unit costs have reduced by over 50%. And we expect this trend to continue.

Blocked Funds
You also rely on IATA to facilitate the repatriation of your funds from overseas sales.
At the end of 2018 total blocked funds stood at $4.36 billion. The majority—$3.8 billion—is in Venezuela where political instability dominates the agenda.
Excluding Venezuela, the backlog of funds awaiting repatriation was reduced by 11%. Clearing $620 million in Angola and $251 million in Nigeria were major contributors to that achievement.

Strategy Review
Now I will focus on changes to the governance of your association.
The Chair Committee has already doubled its meeting frequency giving enhanced guidance to IATA's activities. And nine advisory councils will take up their duties at the end of the AGM. With this new structure, three key topics will get a much sharper focus with dedicated councils on distribution, digital transformation and security.

To ensure that IATA management is ready to deliver the value that you expect from these changes, we have been working with the Board to review and refresh our strategy.

With the understanding that you depend on IATA to prepare for future challenges at the industry level, we refined our strategic vision. It now says that we are: "Working together to shape the future growth of a safe, secure and sustainable air transport industry that connects and enriches our world."

How do we make that happen?

The industry's license to grow will be defined by safety, security, sustainability, and a balanced value chain.
The industry's platform to spread the benefits of aviation must be supported by effective infrastructure, skilled staff, fair taxes and regulations, and a good customer experience.
And our ability to meet customer expectations must be underpinned by product differentiation, digital transformation and efficient processes.
Together these are the ten enablers of our vision. We will present further details of the new strategy to the Board in December. After that, it will be published on the IATA website so that our members can hold us accountable for delivering on it.

Early Strategic Test
Addressing sustainability is a top priority and rapidly evolving challenge. It will be an early and big test of the strategy.

As I discussed in my Report on the Air Transport Industry, reducing emissions is the aim of our sustainability efforts. CORSIA will cap emissions from 2020. And we need to map out transparently and methodically how we get to our 2050 goal of cutting net emissions to half 2005 levels.
We all know that this will be a huge challenge. But we can be confident—indeed proud—that we are managing our climate change impact responsibly.
Whether this is enough to keep our license to grow will be a political decision. And we need to inform that process with even stronger communications and engagement so that:

Travelers and regulators know exactly what we are doing
Governments understand clearly how they can support our commitments, and
Airlines better understand the concerns of the industry's stakeholders.
IATA will lead these efforts, but we will need the direct and active support of you—our members. As consumer brands you have a direct relationship with 4.6 billion travelers that we need to reach. Working together for a sustainable future will make the difference between success and failure.

We are redoubling our efforts to cut emissions, In parallel, let's work together to make sure people know all that we are doing to make their flying sustainable.

Innovation
The environment is not the only area where you expect IATA leadership and innovation. I will take the opportunity to highlight a sampling of recent undertakings.

The first is an agreement with CFM that establishes a code of conduct for how manufacturers work with their airline customers. This is in response to the longstanding call for a more balanced value chain. The agreement sets an important precedent. It defines how the limited number of manufacturers enjoying significant market power should deal on a competitive basis with airlines and third-party engine maintenance service providers. CFM is to be congratulated for coming to such a forward-looking agreement with IATA on behalf of their customers.
Secondly, we are developing a strategy for drones—a fast growing force in aviation. The first priority is their safe integration into the air transport system with no negative impact on airlines. Second, we should also work towards efficient regulation, so the rules of engagement are consistent globally. And eventually we will look for ways to bring those operating with Air Operator's Certificates (or their equivalent) into the IATA family.
A third innovation is a new service called Turbulence Aware. It is a data-sharing program that helps airlines better manage turbulence. Already 18 airlines are participating in operational trials with very positive results. And we are optimistic for a successful launch in 2020.
The fourth is IATA Pay—a new payment option for consumers when purchasing a ticket directly from an airline website using Open Banking capabilities. IATA Pay offers an extremely high level of security as well as cost savings to airlines compared to existing payment methods. We completed the first "IATA Pay" ticket purchase transaction in a live test environment at the end of 2018.
A final area concerns the safe transport of lithium batteries. If we can get airline reports on rogue shipments, we can circulate a bulletin alerting all airlines with the names of the shipper and the freight forwarder involved. This is still in very early stages. I wanted to highlight it so that you can help us fast-track development by encouraging your cargo teams to participate.

Conclusion
Before concluding my remarks, I would like to thank you for the support that you—our members—give IATA. Together we build the standards that are the foundation of global aviation. But the real heavy lifting is done by your teams who work hard to implement the standards and drive the industry's work programs.

I will say a special thank you to those members who serve on the Board, committees or working groups. You challenge us to deliver our best.

And we would like to know how you rate us. Each year your feedback helps us to understand how we are doing in meeting your needs. And I will take this opportunity—as I do each year—to remind you to complete the Membership Satisfaction Survey that was e-mailed to all member CEOs. It will only take a few minutes of your time to complete the five simple questions. And your responses will keep IATA focused on what matters most to you.

Lastly, I will recognize the IATA team that I lead. They are completely focused on our mission to represent, lead, and serve the airline industry. And they do that with great dedication, agility and professionalism to deliver results that will help your business success.
Your association is at your service and looking forward to another great year ahead.

Thank you.