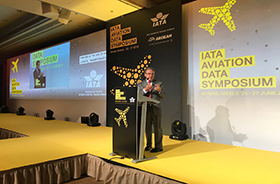 ​Good morning. It's a pleasure to be here. I would like to add my thanks to the sponsor organizations whose support make events like this possible.
This year's theme, "Thriving in the age of Data and Digital," is highly appropriate. We know that our airline members take this very seriously. In fact, as part of IATA's revised governance structure, our Board created a Digital Transformation Advisory Council to support IATA's work on these very issues.
We need to move fast. Every industry is vulnerable to digital disruptors who reimagine business models and processes to anticipate or create new demand for products and services. Look no further than Amazon—which is now starting to sell tickets in India.
So what will it take to thrive in the age of data and digital transformation?
I believe success will come from delivering a frictionless customer experience with safety and efficiency. This will require a coordinated team effort from all players in the travel value chain. Of course, cooperation is nothing new for us—it's in aviation's DNA. But it will also require transforming legacy processes into digital ones and using data to drive decision-making in all facets of our business. Organizational silos will need to be shed to ensure a holistic focus on the entire customer experience. And we will need to do all this while continuing to ensure the highest levels of safety, security and environmental sustainability.
In my remarks, I'd like to focus on some of the building blocks necessary to get us there. We need to:

Develop core data science capabilities and data usage to improve safety and optimize operations.
Take advantage of modern data standards and technology to deliver a superior customer experience.

Establish robust data governance towards suppliers and providers, to ensure access to and--where appropriate--control of our own data.


Data Science
Let's begin with using core data science capabilities to improve safety, our highest priority. The statistics tell us that despite yearly fluctuations, the long-term trend is toward improving safety. Nevertheless, we must intensify our efforts to ensure the accident rate remains disconnected from the expected doubling in air traffic demand over the next 20 years.

Greater use of data will be critical to these efforts. Our Global Aviation Data Management (GADM) initiative is one of the world's most diverse aviation safety information exchange programs. GADM captures data from more than 470 different industry participants, through accident and incident reports, ground damage occurrences and flight data. This supports a proactive data-driven approach for advanced trend analysis and predictive risk mitigation.

Taking GADM further, last year, IATA and the Civil Aviation Authority of Singapore (CAAS) agreed to establish a Safety Predictive Analytics Research Center (SPARC) in Singapore that will leverage information in GADM to assess potential hazards and identify safety risks, many of which are otherwise difficult or impossible to foresee. We are now looking at the possibility of using SPARC predictive models in the US Commercial Aviation Safety Team's Aviation Safety Information Analysis and Sharing Program.
Turbulence detection and avoidance is another area where data is being used to improve safety and operational efficiency. IATA has launched Turbulence Aware, a global platform for sharing automated turbulence reports in real time. This is data that onboard systems are already collecting. Benefits will include a decline in turbulence-related injuries, as well as reduced fuel burn and improved operational efficiencies. Operational trials with 18 airlines are being conducted this year with full launch planned for 2020.
Modern Data Standards
The second opportunity lies in developing and introducing modern data standards to improve the customer experience. Today we are on the cusp of a digital transformation with the New Distribution Capability (NDC) and ONE Order. These programs will liberate the industry from a century of accumulated legacies and deliver a much-needed modernization of distribution and back office processes. They will usher in a world of airline retailing that will drive value for the customer, airlines and the entire air travel chain.
NDC offers enhanced distribution with an XML-based data standard for communications between airlines and travel agents. This enables travel agents to have access to the same content and shopping displays that are available on airlines' own websites. For passengers, the NDC standard means the ability to compare the full value of an airline's products and offers in one place.
And because in an NDC-environment, the airline constructs the full offer, we believe NDC will lead to true dynamic offer creation. Customers will be able to receive airline offers based on their own travel preferences, in the same way that they receive offers from Amazon or Netflix.
ONE Order builds on the data communications advances introduced by NDC to complete the digital transformation that began with e-tickets. ONE Order will replace e-tickets, passenger name records, and electronic miscellaneous documents with a single retail, customer-focused order. Travelers no longer will need to juggle between different reference numbers and documents when checking-in or making changes to their itinerary. With a single reference number, they will be easily recognized by all service providers.
ONE Order will also result in significant cost savings to airlines by aligning with digital processes for fulfilment, servicing, delivery and accounting. And by eliminating legacy processes, it will make it easier for network carriers to partner with LCCs, that always have been ticketless.
Another area that is ripe for digital transformation is the airport experience. Our One ID initiative aims to re-invent the passenger journey with a document-free process based on identity management and biometric recognition. With One ID, passengers will no longer be subject to repetitive document checks from check-in to the departure gate. Air travelers have told us that they are willing to share personal information if it removes some of the hassle from air travel, as long as that information is kept secure and not misused.
To make One ID happen we must work with governments to agree on global standards, harmonize approaches, sort out privacy issues, integrate with existing infrastructure and agree on the implementation process. Airlines are strongly behind it. At the recent IATA Annual General Meeting, our members unanimously approved a resolution to accelerate the global implementation of One ID.
Data Governance
The initiatives I have discussed are just a few of the opportunities we have before us to transform our industry using digital and data. But we must also overcome potential blockers to this vision. And that brings me to my last building block, which is data governance.
As I'm sure many of you know, modern aircraft generate enormous amounts of data that can be analyzed to monitor operating efficiency and reliability. In turn, this enables airlines to avoid delays and cancellations. While original equipment manufacturers (OEMs) generally agree that airlines own the raw data produced by their aircraft, they have taken steps to make it difficult for airlines to utilize this data. We are engaging with the OEMs on behalf of our members on this issue.
Another example where access to data presents a challenge to our digital transformation is information about our passengers that resides in third-party booking systems. In many cases, this information is not shared. This makes it difficult to alert passengers to flight disruptions and offer them alternative travel options.
Recently, our members took steps to address this issue. A rule change adopted by the Passenger Agency Conference requires travel agents to ask passengers to provide contact information that will be shared with the airline. This will enable the airline to notify the passenger in the event of a flight disruption and work out a possible solution.
I know that this has caused some concern to our travel agent partners, but the resolution specifically directs that airlines only use the contact information for operational notifications, not for sales and marketing purposes.
Stepping back and looking at the bigger picture, however, I hope we can agree that delivering a frictionless travel experience requires that the value chain be able to pro-actively manage disruptions and deliver a personalized experience to our shared customer. And that requires access to passenger information. Does it make sense that the passenger should have to bear the burden of notifying each individual supplier—hotels, car services, restaurants, even other airlines—when they are dealing with a disruption? Imagine how much easier it would be if all this could be managed through a single contact point.

We have a number of initiatives underway to address this:
Open Air aims to facilitate the development of industry standards and best practices on data exchange in the airline industry, leveraging API technology.

Travel Communication and Personalization seeks to enable multiple industry stakeholders to communicate with their customers across all touch points of their journey, with up-to-date and accurate information through a trusted source using Open APIs. Finally,
Our Airline Industry Data Model (AIDM) project responds to a long-standing challenge in our industry: the same terms have different meanings in different systems. AIDM is intended to become a single point of access to store industry-agreed vocabulary, data definitions and their relationships.

The fact is that data becomes more valuable the more it is shared. An example is Direct Data Solutions (DDS), through which participating airlines have access to a global data set of aggregated industry ticketing data. Established in partnership with Airlines Reporting Corp., DDS is an excellent example of a data sharing platform that has strong data management, governance and integrity that meets the needs of its data contributors and users.

Speed
I would like to touch on one more blocker to digital transformation, and that is our speed in transforming. Our industry's commercial standards are built on a consensus model. This is useful because it means we are all moving in the same direction and ensures a globally harmonized aviation system. However, it also means that we must move at the pace of the slowest adopter. As a result, often standards take too long to implement and innovators are faced with the choice of going it alone with an orphan standard or delaying their own programs. We have launched an initiative called Partners for Transformation that aims to accelerate the development and adoption of industry transformation initiatives.
Conclusion
The ability to leverage data and become a data-driven organization requires a change in mindset and culture. Technology, while important, is usually the easiest part to tackle. Getting the fundamentals right is key. The means building our core data capabilities to boost safety and operating efficiency, leveraging modern data standards to better serve our passengers, and ensuring access to the data that lie at the heart of these activities, while keeping it secure. And we must do all this with speed, while maintaining the highest levels of safety. It's what our customers demand.
I call aviation the Business of Freedom. It liberates us from the constraints of geography and distance. In doing so, it empowers us to lead better lives, and makes the world a better place. Without aviation, the inter-connected global economy as we know it would not be possible. Data and digital transformation will propel aviation further, so that we can deliver even greater benefits to the global economy.

Thank you.