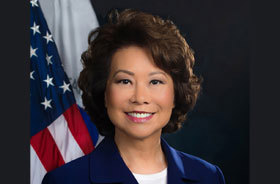 Geneva - The International Air Transport Association (IATA) announced that The Honorable Elaine L. Chao, U.S. Secretary of Transportation, will deliver the keynote lunch address at IATA's Legal Symposium taking place in New York City, New York on 19-21 February.
The Symposium will be opened by Alexandre de Juniac, IATA's Director General and CEO.
In addition, Stephen Sackur, host of HARDtalk, the BBC's global affairs interview program, will challenge a panel of top aviation law experts on difficult points of policy and regulation in this new decade.
The Symposium will also address key issues such as environmental regulation, managing unruly passengers, mental injury claims, latest developments regarding service animals, as well as the impact of social media and cell phone videos.
Other topics include:
Mutual Recognition of Safety Certification: An Uncertain Future?
Malicious Cyber: How to Manage and Mitigate this Emerging Category of Risk
Access to Congested Airports
Competition Law
"Legal considerations underpin many of the strategic issues on the agenda of airline executives. Whether it is tackling the climate challenge, certifying aircraft, accessing congested airports or combatting cyber-crime, timely legal counsel is critical. Attending this uniquely specialized event helps aviation lawyers keep abreast of what lies ahead and share best practices to meet the challenges," said Jeff Shane, IATA's General Counsel.
The IATA Legal Symposium takes place on an annual basis and is open to in-house airline or airport legal counsel, legal practitioners, regulators and policymakers, as well as media.
For more information, please contact:
Corporate Communications
Tel: +41 22 770 2967
Email: corpcomms@iata.org
Notes for Editors:
IATA (International Air Transport Association) represents some 290 airlines comprising 82% of global air traffic.
You can follow us at twitter.com/iata for announcements, policy positions, and other useful industry information.