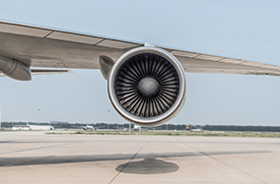 Translation:
IATA pide al Gobierno de Argentina que apoye a la aviación frente a la crisis del COVID-19 (pdf)
Buenos Aires, Argentina - The International Air Transport Association (IATA) is calling for support measures from the government of Argentina to address the impact of the COVID-19 crisis on the air transport sector.
The spread of COVID-19 has virtually paralyzed air traffic worldwide, presenting an unparalleled challenge to aviation, tourism and commerce - industries which are vital to the social welfare and economic development of countries. Argentina relies heavily on its air connectivity with 58 international destinations, ensuring easy access to the country for tourists, business travelers and cargo, alike. IATA therefore calls on the authorities to provide relief and assistance in the immediate and longer term for this sector and its extended value chain, both of which play a major role in providing stability and economic development.
"Global aviation is facing an unprecedented crisis. Passenger traffic has stopped, and cash flows are almost non-existent. We estimate that the passenger revenues generated by the Argentinian market will fall by around US$2.5 billion in 2020 and that on a worldwide basis airline liquidity will decrease by US$61 billion in the second quarter. In this context, although airlines have proactively taken emergency measures to reduce the economic impact, the gravity of this situation makes it essential for national governments to safeguard the airlines' liquidity. This will enable airlines to survive this crisis, thereby protecting the direct and indirect jobs generated by air transport, as well as the flow of tourists and business travelers to the country," said Peter Cerdá, IATA's Regional Vice President for the Americas.
Air transport plays a vital role in Argentina's economy, supporting a value chain which includes small and medium sized enterprises, corporations and multinationals, and a wide variety of sectors, such as hotels and tourist facilities. It contributes US$12 billion to the country's GDP and supports some 329,000 direct and indirect jobs. In total, 2.1% of Argentina's GDP is sustained by the air transport sector and foreign tourists arriving by air.
"Without immediate relief measures, the airlines serving Argentina today will not be able to continue their operations at pre-crisis levels, or in the worst case, could cease to exist altogether. This assistance encompasses securing essential supply chains by air, preserving as many jobs as possible and ensuring that connectivity and tourism can recover quickly," Cerdá added.
In order to best cushion the financial impact, the government should consider the following measures to support the aviation industry, like those taken by countries such as Brazil, Colombia, Norway, New Zealand and the United States, among others:
Financial:
Establish credit lines and direct financial assistance packages for airlines to draw on.
Offer direct financial support for airlines to compensate for reduced revenues and therefore support liquidity due to travel restrictions imposed as a result of COVID-19.
Deferred tax obligations and income taxes:
Postpone settlement and/or payment of 2020 taxes and fees.
Rates and operating costs:
Eliminate or freeze payments related to the use of airport infrastructure; in particular, exempting grounded aircraft from parking fees during the crisis.
Postpone the settlement and/or payment of airport and air navigation charges for 2020.
Exonerate the payment of charges for flight protection, operations and parking of aircraft.
Short term relaxation of consumer protection rules:
Apply more flexibility to rules governing passenger compensation or fines in case of flight delays or flight cancellations.
Temporarily eliminate the obligation to reimburse passengers where flights have been cancelled due to travel restrictions and allow use of vouchers.
"As soon as the COVID-19 outbreak is under control the world economy will have to be rebuilt. Aviation is one of the main pillars of Argentina's economy and allows the country to showcase its natural beauty - beaches, mountains, lakes, rivers and seas - its gastronomy, culture and traditions, to tourists from all over the world who can easily reach most of its territory by air," Cerdá said.
A presentation with more information is available on our site.
For more information, please contact:
Corporate Communications – Latin America & Caribbean
Tel: +1 – 438 - 258 3155 or +1 – 514 – 240 4746
Email: ruedigerm@iata.org
Notes for Editors:
IATA (International Air Transport Association) represents some 290 airlines comprising 82% of global air traffic.
You can follow us at twitter.com/iata for announcements, policy positions, and other useful industry information.