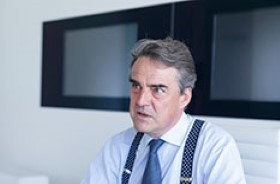 Good afternoon from Geneva. And thank you all for joining from wherever you are in the world and whatever time it is for you.
The situation of the airline industry remains grave. As you know, we have been working from a scenario of severe travel restrictions lasting for three months. That will cut industry revenues by $252 billion in 2020 compared to 2019.
Now Brian has worked through the impact of that scenario on the bottom line. That is a $39 billion net loss in the second quarter. We also see the industry burning through $61 billion in cash in the second quarter—a precipitous fall for cash balances. As we have said before in these calls, the dimension of this crisis is beyond anything that the industry has experienced:
When borders are closed and people's mobility is limited by governments, our business disappears. And, of course if we cannot move people, that impact is felt across the economy, not least of which in the tourism sector.
And when 70% your business vanishes overnight, there is no amount of cost cutting that can adequately fill the gap.
So it is good news when governments come to the table with relief measures. The biggest one since our last call was the $2 trillion package in the US that included over $50 billion for airlines and their employees. Colombia, Singapore, Australia, China, Norway and New Zealand are also among governments that have taken specific relief measures.
And a few governments—Brazil, Canada, Columbia, Italy and the Netherlands—have also addressed a key weakness that has emerged. The massive restrictions that governments have imposed on movement means that massive numbers of flights have been cancelled, creating a huge refund liability. Brian has calculated that globally, airlines have a $35 billion liability for tickets sold but which are unflown.
Canada, Colombia and the Netherlands have decided to allow airlines to issue vouchers in place of refunds. This will enable airlines to preserve the cash that they need to keep cargo operations running and preserve their ability to be fully operational when we can safely re-start the industry.
These governments have taken an extraordinary measure in extraordinary circumstances. And it will provide a vital buffer period for airlines to keep operating. I cannot stress how important that is. When the public health crisis abates to the level where it is safe re-start the economy, the airlines must be ready to go. The recovery will be slower and much more painful if airlines are not able to support trade and tourism.
Cargo
The one part of the industry that continues to operate is the cargo sector. And it is struggling to meet demand. Passenger operations have been reduced so drastically that there is just not the capacity in the system to meet even the reduced levels of air cargo. And, as I have said before, this includes vital medical shipments on which people's lives depend.
Airlines are being creative in mounting cargo operations as charters and even using passenger aircraft. As we all know, aviation is a highly regulated industry. And on top of the "normal" process of obtaining traffic rights and landing permissions, in the current situation we were also seeing cargo crew being delayed by quarantine restrictions designed for commercial passengers.
Last week the European Commission published guidance which will help clear the roadblocks in Europe. And we continue to encourage other countries to follow suit.
When the human toll from this terrible pandemic continues to rise, and when vast parts of the global economy remain shut down with millions out of work, I cannot say that it has been a good week. But we are seeing some actions from governments that are setting the stage to enable aviation to contribute to the recovery when people are ready to fly again. We thank these governments for their understanding of aviation's importance. And, my message for those governments that have not yet stepped up to put measures on the table is to act fast.
I look forward to your questions.
Teleconference recording
Listen to the teleconference recording (mp3)