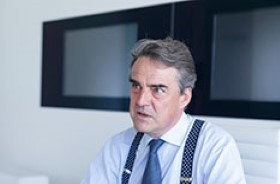 Thank you for joining us on this regular call. As you saw in the presentation of our Chief Economist, Brian Pearce, the impact of the COVID-19 crisis is continuously evolving and deepening as the fight against the virus continues.
We have never seen a downturn this deep before. In our latest scenario, full year passenger revenues plummet 55% compared to 2019, while traffic falls 48%. In other words, half our business disappears. That's catastrophic.
That impact is then amplified throughout the economy. If airlines lose one job, another 24 disappear somewhere in the value chain. That was behind our analysis last week when we said that some 25 million jobs are at risk.
That is also why we continue to ask governments to make the viability of airlines a priority. In the last week we have seen governments in Belgium and Sweden respond with relief measures. We know that several others are considering such steps. I encourage them to move quickly. This industry will run out of cash soon, so support of any kind will be a lifeline. These include:
Direct financial aid
Loans, loan guarantees and support for the corporate bond market by governments or central banks; and
Tax relief
Turning to the lifting of mobility restrictions, there has been some positive news in Europe where a few governments have seen progress against the disease improve to the point where they are beginning to re-open their economies. We can all be encouraged by this.
I must point out, however, that the easing of lockdown measures, as far as we have seen, does not include a re-start for aviation. And, individual country decisions cannot enable the restoration of international air services when other markets remain closed.
Furthermore, China and South Korea--countries which have been successful in controlling the disease within their own borders-- are now doubling down on international travel restrictions because they don't want to risk importing a second outbreak.
Governments re-opening their economies must have confidence that the disease is also under control in the countries they do business with. Otherwise they are not going to make travel easy or convenient.
Passengers—business or leisure—will also need to have their confidence restored.
They won't return to travel until they feel personally safe in doing so.
They will need to have confidence that their travel will not be interrupted by the disease or by quarantine restrictions,
And they must have confidence in the economic situation.
I don't underestimate the challenges that are ahead. The keys to success, however, are well-known in the aviation world—cooperation and harmonization.
Successive unilateral actions by states can shut down aviation as we have seen. But unilateral actions cannot restart aviation. Governments must work with each other and together with the industry.
I emphasized that in a presentation to the ICAO Council last week. And this is the main idea driving the regional meetings with governments and stakeholders that we are planning to begin next week.
There is much more to learn about COVID-19. So, we don't expect to see immediate re-start solutions from our efforts. What is important, however, is that we have the best minds in the world focusing together on solving the challenges that COVID-19 has brought to the global air transport system.
This week we are reminded of the precedent for industry and government cooperation in the face of enormous challenges. The Chicago Convention was signed and ICAO was founded by governments in December 1944. With that, the regulatory framework for the post-war system for global air transport was created, even as World War II raged.
A few months later, airlines joined together to help governments in turning that framework into the industry that we have today. IATA was founded on 19 April 1945. That's 75 years ago this week.
That's very similar to the call to action we have today. Like a war, COVID-19 has brought death and economic devastation. And even though the end-game for COVID-19 is not yet clearly visible, it is absolutely clear that we must work and plan for it together.
With that I will close my remarks. I look forward to taking your questions.
Media Briefing Recording