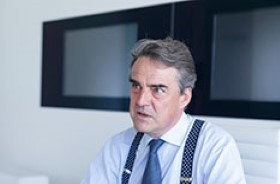 Brian has outlined a long recovery process for aviation to get started again. Of course, airlines are eager to fly. And we are making proposals to governments in order to be able to do so safely.
Before I take your questions, I would like to highlight two issues:
The first is to highlight our opposition to governments introducing quarantine measures for arriving travelers.
This week we have seen the UK announce a mandatory 14-day quarantine as part of its plans when easing its lockdown. There are few details about how long and under what conditions. Similarly, Spain announced a 14-day quarantine measures on arrival would be in place there until at least 24 May and possible longer.
International travel cannot re-start under such conditions. In a recent survey that we did in 11 markets,
84% of travelers said that quarantine measures was one of their top concerns, and
69% essentially said that they would not return to travel under such conditions
Our top priority is to re-start this industry safely. We are proposing a series of measures that we believe will give governments the confidence to re-open their borders. It is a risk-based layered approach to biosecurity that needs to be coordinated globally. That's important. The arriving country must be confident of the procedures in place at the departing airport. And travelers will need the reassurance of common measures.
In the risk-based layered system that we are proposing there are temperature checks and other measures at departure to keep symptomatic travelers from flying. And a robust government managed system of health declarations and rigorous contact tracing can manage the risk form asymptomatic travelers.
We oppose quarantine measures because the combination of these measures, if well-implemented globally, can manage the risks.
We are working with ICAO and other stakeholders to put in place an agreed risk-based layered system quickly to safely and efficiently restore global connectivity.
The second issue is one that we have discussed on this call before—vouchers.
Under EU 261 Europe's airlines will need to return around EUR9.2 billion for cancelled flights through the end of May.
EU 261 was not designed to deal with mass cancellations as have been necessitated by government-imposed lockdowns in the fight against a global pandemic.
We asked for the flexibility to issue refundable vouchers—or delayed reimbursements—that would enable airlines to preserve some precious cash to survive the crisis and ensure consumers will get their funds.
Some 16 EU states representing 70% of the EU's population supported the request. Instead of an amendment to EU 261 that would give clear guidance, the EC have today issued vague recommendations that, quite frankly, are not helpful to airlines are consumers. Both need clarity.
This is not a request that we make lightly. And every traveler must be treated fairly and given what they are owed. With flexibility on EU 261 we can facilitate this and keep the sector viable during the crisis
If the airlines run out of cash people will lose their jobs, airlines could fail and there would be negative fallout across the travel and tourism value chain. There is no public policy benefit in that. Airlines drive business and link economies. Re-starting economies with an even more hobbled air transport sector is akin to boxing in the fight of a lifetime with one hand tied behind your back.
We call upon the EU Member States in the Council to ensure that a harmonized approach to reimbursements and vouchers during COVID-19 is achieved through a temporary and clearly drafted adjustment of the current passenger rights framework.