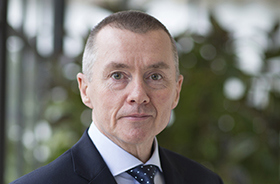 I would like to thank the Board of Governors for nominating me and you, the members of IATA for ratifying my appointment as Director General from April of next year. I am honoured to be confirmed in the role.
I'd also like to thank the IATA members for their continued support of the resolutions from this year's AGM, in particular the challenging environmental goals we have set for ourselves.
I don't intend to speak for long but I'm told that there is some interest in what my leadership will mean for IATA.
When Tony Tyler took over from Giovanni Bisignani he told us that he would be a different Director General, with a different style but with the same goals, and he was right.
When Alexandre was appointed he told us that that he understood how Governments operate but would not be happy with the speed at which they work and reminded us that he was a businessman and knew what was needed to lead an airline.
Both men wanted the same thing. They wanted IATA to succeed and Alexandre has certainly worked hard and I know will continue to work hard until he steps down at the end of March, to achieve that goal.
>Download this video in high resolution
My style will be different to what has gone before me. I too am a businessman. I too understand how Governments operate but I am even more unhappy and more critical of how they get things done or more importantly, in many cases how they have failed to get things done.
I have spent more than forty years in this business. About half of them were at the pointy end, as a pilot and the other half at the blunt end as a CEO.I know what it takes to succeed. In those forty years I have seen first-hand the numerous challenges and significant crises that we have faced and that we have overcome. I have a passion for this industry and a passion for IATA. We need more than ever an effective industry body to serve and represent our interests.
This year has been the most challenging ever but let us not forget that the Coronavirus did not stop us flying. We have continued to provide vital services and in many cases we were the key link in getting critical safety equipment to health services. The virus did not stop our customers boarding our aircraft because we have demonstrated our ability to adapt and to ensure the safety of our customers and our people and we know they want to fly with us. They have been denied the freedom we provide, not by a virus, but by a disjointed political response and the restrictions put in place by certain Governments who have failed to adapt and to adopt the sensible measures that would have allowed almost normal air services to continue.
But there is good news. As Alexandre has said, the building blocks are now in place to allow our industry to get back to the business of freedom and we should be confident in our ability to succeed in this new environment.
IATA exists to serve and to represent you. IATA cannot lead if no one follows. We must be relevant and we must add value to you. That will only happen if we serve you and represent you with passion, with energy, with determination and with action.
Those who know me will know that you can judge me more by my actions than my words. I'm sure people who know me will tell you that I like to borrow other peoples words, especially from great Irish authors and playwriters like George Bernard Shaw, Oscar Wilde or Brendan Behan.
Behan once said that "it's not that the Irish are cynical. It's rather they have wonderful lack of respect for everything and everybody". And finally to quote George Bernard Shaw; "Progress is impossible without change and those who cannot change their minds cannot change anything".
Ladies and gentlemen, friends and colleagues, we have a lot of minds to change and I look forward to working with you to do just that. Thank you for your trust and for your confidence.