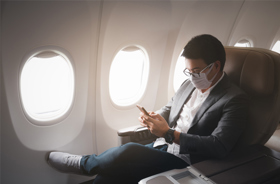 The safety of passengers and crew is always our top priority. With that objective, we are carefully reviewing the United States Center for Diseases Control (CDC) study. However, it's important to note that this laboratory study did not consider the significant risk-reduction impacts of the wearing of facemasks by passengers and cabin staff (nor could it have, given that the data collection occurred in 2017). The wearing of masks on flights has been airline policy for several months. Many governments have made it a legal requirement, including in the US, where it has been a federal mandate from January 2021. Scientific studies that have taken into consideration mask-wearing have concluded that the risk of onboard transmission is very low.
A report by the US Transport Command, based on simulations conducted on two passenger aircraft found that the overall exposure risk from aerosolized pathogens, like coronavirus, is "very low" on the types of airline aircraft typically contracted to move Department of Defense (DOD) personnel and their families. In the US Transport Command study, more than 300 aerosol releases, simulating a passenger infected with COVID-19, were performed over eight days using United Airlines Boeing 767-300 and 777-200 twin aisle aircraft.
The Harvard School of Public Health Aviation Public Health Initiative in its Phase 1 Report (pdf) on the risks of COVID-19 transmission during air travel in which it stated: "This research substantiates that the layered approach of Non-Pharmaceutical Interventions (NPI) instituted on commercial aircraft - effectively diluting and removing pathogens and in combination with face masks - results in a very low risk of SARS-COV-2 disease transmission on aircraft."
Additionally, the CDC study addresses only exposure and not transmission. There have not been large numbers of confirmed or suspected cases of onboard transmission reported at any stage of the pandemic, and almost all of those that were, occurred without the wearing of masks on-board.


For more information, please contact:
Corporate Communications
Tel: +41 22 770 2967
Email: corpcomms@iata.org