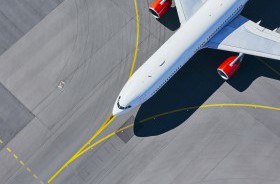 Translation:
国际航协:航空业开展线上培训提高跑道安全 (pdf)
Montreal – The International Air Transport Association (IATA) is collaborating with the Civil Air Navigation Services Organisation (CANSO) and the International Civil Aviation Organization (ICAO) on a virtual training initiative to boost runway safety and improve the operational efficiency of aviation.
The three industry organizations have launched a new virtual training course on the new ICAO Global Reporting Format for Runway Surface Conditions (GRF). The GRF, which goes into effect on 4 November 2021, sets out new ICAO methodology for assessing and reporting runway surface conditions aimed at improved flight crew assessment of take-off and landing performance.
The online course is specifically designed to meet training requirements for air traffic controllers and aeronautical information service staff. The course content has been preliminarily reviewed by state and regional regulatory bodies to ensure it complies with the GRF training requirement.
The training partnership is the first of its kind between the three international organizations and sets the stage for future collaboration on global safety enhancement activities.
"Safety is always the number one priority in aviation and as an industry, we constantly work to mitigate risk even further. The GRF is a globally harmonized methodology that is intended to be the sole reporting format for international aviation, with the objective of reducing runway excursions. Collaboration between the main stakeholders on training will ensure that all parties understand and apply this new and enhanced common standard," said Gilberto Lopez Meyer, IATA's Senior Vice President for Safety & Flight Operations
"We are pleased to be working with IATA and ICAO to provide Air Navigation Service Providers with a common method of meeting the training requirement. This initiative will help to ensure understanding and improved adherence to the new runway surface condition reporting standard in an efficient way," said Simon Hocquard, Director General CANSO.
"Runway safety continues to remain aviation's biggest safety challenge, representing more than half of all accidents reported to ICAO for commercial operations," emphasized ICAO Secretary General Dr. Fang Liu. "We have been collaborating in recent years on numerous initiatives to reduce runway safety-related accidents and incidents worldwide, and the hard work undertaken to forge international consensus on the new GRF, in addition to this new collaborative training course supporting it, should help to deliver substantial runway safety performance improvements."
For more information, please contact:
Corporate Communications
Tel: +41 22 770 2967
Email: corpcomms@iata.org
Notes for Editors:
IATA (International Air Transport Association) represents some 320 airlines comprising 83% of global air traffic.
You can follow us at twitter.com/iata for announcements, policy positions, and other useful industry information.