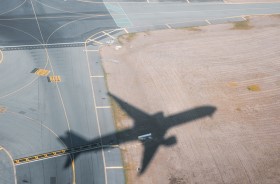 Translation:
Ciudadanos y residentes argentinos corren riesgo de quedar varados en el extranjero por nuevas restricciones gubernamentales a los vuelos (pdf)

Miami – The International Air Transport Association (IATA) is asking for an urgent meeting with the Government of Argentina following the publication of the latest government decree announcing further drastic restrictions on international flights to the country.
"We understand the government's focus on protecting the health and well-being of the citizens of Argentina. As an industry we have done our utmost to ensure safe and secure connectivity to the country, despite the drastic operational restrictions which are already in existence. However, mandating a further reduction of daily international arriving passengers by 70% will force airlines to strand thousands of passengers, mainly Argentinian citizens and residents, outside the country, through no fault of their own," said Peter Cerdá, IATA's Regional Vice President for the Americas.
Argentina had already placed a daily cap of 2,000 passenger arrivals on international flights which had forced airlines to drastically reduce and alter their schedules. According to the latest decree issued by the government, with immediate effect only 600 passengers will be allowed to arrive on international flights per day.
"As its stands, airlines will not be able to implement the new government directive. At a minimum the government needs to advise how the 600 seats will be distributed between the airlines providing international passenger service to the country. This needs to be done in a non-discriminatory and transparent manner and we have therefore requested an urgent meeting with those in charge. As an industry we would like to continue to provide essential air connectivity to and from Argentina, both during the COVID-19 crisis and beyond. But by taking such unilateral decisions at such short notice, the government risks further isolating the country. We need to learn to live with COVID-19 going forward and those in charge need to follow the science and not let fear guide their decisions," Cerdá said.
For more information, please contact:
Corporate Communications
Tel: +1-438-258 3155
Email: ruedigerm@iata.org
Notes for Editors:
IATA (International Air Transport Association) represents some 300 airlines comprising 83% of global air traffic.
You can follow us at twitter.com/iata for announcements, policy positions, and other useful industry information.