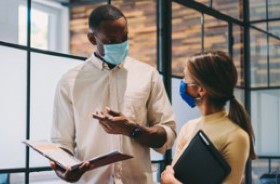 Montreal -The International Air Transport Association (IATA) and the International Airlines Travel Agent Network (IATAN), a department of IATA serving the US travel and tourism industry, announced that IATA's globally recognized travel and tourism diploma courses are now being offered to existing and aspiring travel industry professionals based in the US, in partnership with the Airlines Reporting Corporation (ARC).
Authored by highly regarded industry experts, the Travel and Tourism Diploma courses are aimed at equipping students with practical, and relevant industry knowledge and skills that are highly valued by employers. While the COVID-19 pandemic has devastated the travel and tourism industries, US domestic traffic is recovering rapidly. IATA and Tourism Economics recently forecast a global return to pre-pandemic passenger numbers in 2023. By completing the diploma courses, travel professionals can ensure they are fully prepared to take advantage of emerging opportunities.
Over the years, IATA's Travel and Tourism Diploma courses have helped shape the careers of over 100,000 travel professionals all over the world. Now, IATAN and ARC are pleased to offer these courses in the US as part of an ongoing industry restart initiative to attract fresh talent and develop existing professionals.
For more information, please contact:
Corporate Communications
Tel: +41 22 770 2967
Email: corpcomms@iata.org
Notes for Editors:
IATA (International Air Transport Association) represents some 290 airlines comprising 82% of global air traffic.
You can follow us at https://twitter.com/iata for announcements, policy positions, and other useful industry information.
IATAN (International Airlines Travel Agent Network) is a department of IATA and has been servicing all aspects of the US travel and tourism industry for more than 20 years. You can follow IATAN at https://twitter.com/iatan