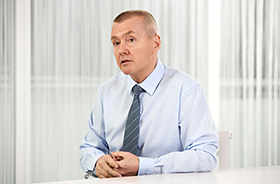 This presentation is in the form that you should be familiar with. So we're reviewing today the full year performance for both passenger and cargo. And I'll comment briefly on some December figures as well. But as you can see, for passenger in 2021, we're at 42% of 2019 levels. For cargo, we're actually ahead of 2019, up 6.9% versus 2019. And you can see on the chart there, as we have commented previously, domestic leading the way on the passenger side. It was down 28.2% versus 2019 with international travel down 75.5%. The industry then, as I said, at 58.4%. You can see there the trend towards the end of the year and international travel was quite good. No comments on that at the moment, but a great year for cargo.
It was 18.7% ahead of 2020 and finished the year strongly, up 8.9% in December versus 2019 and up 7.8% versus 2020. Cargo continued to be a very important source of revenue and cash for the airline industry. And again, great credit to the airlines who've managed to pivot their business to take advantage of the cargo opportunity. Still some challenges there that are impacting on the supply chain. We've talked about those before. But I think the outlook continues to be positive for cargo as we go into 2022.
Let's take a look in a bit more detail at the domestic. Now interestingly, domestic represented just over 62% of total traffic, which is a complete reversal from where we were in 2019, when domestic was 36% of total traffic.
So this reinforces what we've been saying for some time that domestic travel, where generally there are few, if any government restrictions, shows that people will travel. The domestic markets have recovered quite strongly from the initial decline back in March of 2020.
You can see in Russia, domestic travel above where it was in 2019 at 24.2% and the US market performed well; 23.8% [down] and continues to do well. And the area that has lagged there in domestic terms is Australia at 62.4% down. And that's because of border closures within Australia. The domestic travel for India and Japan is in the middle there between China and Australia at minus 42% and minus 58%. But overall, domestic markets performed strongly. And now, as I said, represent over 60% of all travel, or did in 2021.
Moving on to the next slide - the international markets. You can see they're actually recovering towards the end of the year in most markets, with the exception of the Asia Pacific region, which has continued to lag significantly behind the rest of the world and that's solely down to the travel restrictions that exist in that part of the world. In fact, I was just looking before we went online, in 2019 the international travel within Asia, within that region, represented 13.3% of international travel, second biggest market after the within-Europe market. So in 2019, it was 13.3% of the market; in 2021 it was 1.5%. And indeed even more staggering is that the seat factor in 2019 was 80%. In 2021 it was 26%. So it just shows actually the total collapse of international travel in that region. And that's I would say solely down to the restrictions on international travel that have been imposed by governments.
Europe which represented in 2021 about half of all international travel, was recovering through the year –it was in the middle of the pack, and they're down 67.6%. So it's a positive end of the year. And as we go into 2022, we have cautioned about some short-term impact because of Omicron and the reintroduction of some restrictions towards the end of the year. But I think once those restrictions start to be removed, and we're seeing evidence of that now, we should see international travel recovery, because it's clear that the underlying demand from passengers remains quite strong.
As we move on to the next slide, this one I think you'll find very interesting. And I think it has surprised me. I've been watching this as we've been going through the year. And this shows the premium and the economy. Now, I have to caution once again when we talk about premium that doesn't necessarily relate to business travel because you get a lot of people traveling in premium cabins that are traveling on leisure as well. So this isn't a comment about business travel. It's a comment about premium travel, against economy. But in effect, the premium market has been recovering at the same rate as the economy travel and this is up to the end of November as we don't have the detailed December figures, but I don't expect to see any change.
And I think that should come as a surprise to people, particularly those who have, sort of, focused on business travel rather than differentiating between people who travel in the premium cabins and people who travel in the economy cabins, but premium travel recovering at the same pace as economy. Still a long way to go. These are for international routes, but I think that's a positive indication.
We've talked a lot about people's willingness to travel. And all of the evidence that we've seen as we've gone through the year indicates that there is a strong willingness to travel. And I think this is well shown here in this chart. This is "bookings within South Africa". And you can see the impact of bookings as restrictions were introduced towards the end of November. I think the Omicron variant was identified on the 24th of November. And you can see the impact that that had on bookings. But then the gradual improvement in bookings despite the fact that the new COVID cases in the region continued to climb, you could see bookings increase, and they have steadily increased as the variant and the new cases started to decline as well. So no matter what way we look at this, when we slice and dice the data that we have available to us, it very strongly tells us that once restrictions are removed, the underlying demand is good. And what has caused uncertainty in the minds of consumers has been the removal and reintroduction of restrictions and the uncertainty around what rules apply. But I'm pleased to say that we are seeing some positive signs in relation to government actions on this side.
This we've shown you before, so you should be very familiar with it. But the simple message here is: we can't find any correlation between the introduction of these restrictions and suppression of the virus. In fact, if you look at, we say the end of 2020, December 2020, when a lot of restrictions were in place, you could see cases increasing and then decreasing and then increasing again, despite no changes to government policies. So as we've said on many occasions these restrictions on international travel do very little--very, very little--to suppress the transmission of the virus.
Going to the next slide, I think you can see that the virus as we've talked about, despite widespread transmission--and these are UK figures but it's typical for most countries around the world are seeing—a huge spike in cases, but not seeing the same corresponding increase in hospitalization that we witnessed during previous spikes.
And the next slide is from data in the UK. This is an analysis of a study and research done by Edge Health and Oxera. It's available online. It's a fascinating piece of research and it shows what would have happened if different travel policies were in place. And in effect what it says is that once the virus is in the country, having international restrictions on travel does absolutely nothing to suppress the transmission.
In fact, if you look at the blue line, what it's saying there is you know, the only action that really could have suppressed transmission is actions within the domestic markets, in other words, putting everybody into lockdown. But these travel restrictions do very little, if anything, to stop the transmission of the virus. It has I think under the research that we did about a 3% impact and delays the peak by a couple of days. But realistically, it doesn't have any meaningful impact. And just reinforces our view--I think strongly reinforces our view--that if you look at the science, and if you look at the data, then there's no reason to have these restrictions in place, particularly for people who are fully vaccinated.
So we continue to argue that international restrictions for fully vaccinated people should not apply, they should be free to travel without testing and without restriction. And for those who can't be vaccinated because they haven't had access to vaccines or for other reasons can't be vaccinated, then a sensible testing regime can be an effective means of managing the risk.
I think a couple of issues that are on the minds of airline management teams at the moment relate to the rising cost of oil, and jet fuel in particular. And most people focus on the price of Brent, this chart shows here the average price of a barrel of jet fuel significantly higher than our last forecast, which was in October of last year, where we had forecasted to be at just under $78. The average for January has been just over US $100 -$101. In fact, when I looked this morning, I think it was US $102. And fuel, as you know, represents the single biggest element of an airline's cost base and if I look back over the last 20 years, it averaged 25.6%. And that ranged from about 12.5% in 2002 up to 38% in 2008. So clearly, you know, this is something that airlines will be closely monitoring. And given what we've seen over the last couple of years, it's unlikely that most airlines will have significant hedging in place to protect them against this increase in the oil price. So I think this will be a factor certainly playing into fares as we go through the year if the oil price remains high.
And finally, I think we've one more slide. End on a positive note: the industry is optimistic. This is research that we do on business confidence that looks at what airline CFOs think will happen to passenger volumes and cargo volumes. And as you can see, they've continued to be generally positive as we've gone through the latter part of 2021. The reason the cargo volumes--some people see them coming down slightly--is because - as I mentioned earlier - we have been operating at record levels of cargo. So it's been very good through the year. That's not to say we're pessimistic about cargo in 2022. Quite the opposite, in fact we're optimistic. But we are at a significant high. But I think we're ending the year generally in better shape than we started the year going into 2022. I think there will be a short-term impact as a result of government restrictions in response to the Omicron variant that we've seen since the end of November. But more and more governments are, I think, reviewing those restrictions. And we're pleased to see that some if not all of those are beginning to be relaxed or removed. And I think that's a positive indication for the industry in terms of what's likely to happen with short term bookings.
So, another tough year overall but quite a bit of positive to take from it as we went through the year. And as I said cargo again being the star performer in 2021 as it was in 2020.
Related press releases: