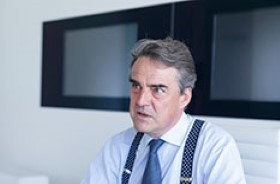 Good afternoon from Geneva. And thanks Nick for that update on IATA Travel Pass. The momentum that is building around this initiative provides some rare good news for the industry. These last weeks have seen governments impose even more severe travel restrictions in the face of new COVID variants, halting what little recovery in air travel had been occurring.
We believe that the IATA Travel Pass will become a key tool in managing a safe and orderly re-start of the industry. It is unclear when that will be. But we need to be well-prepared when the epidemiological situation permits. Governments will be the ones making the decision on when to re-open borders. But we think that the aviation industry will be a valuable partner in the process.
That is not unlike the partnership that exists between airlines and governments on safety. Governments are the regulators, but we work together successfully to the common goal of a safe global industry.
Two of the most important developments that are happening simultaneously are
The continuous improvement in testing technology, and
The growing number of people being vaccinated.
In light of that we are seeing some progress that could form the foundation for plans to re-establish global connectivity. These include:
Vaccinations: Most governments are pursuing a vaccination strategy that seeks to protect their health care workers and most vulnerable populations first. IATA supports re-opening borders to travel when this has been achieved, as the greatest risks will have been mitigated.
Vaccinated individuals: The Greek government last week proposed that vaccinated individuals should be immediately exempted from travel restrictions, including quarantine. IATA supports moves by governments, including Poland, Latvia, Lebanon and the Seychelles, to implement this exemption.
Testing: Many governments are implementing flexible testing regimes to facilitate travel, which IATA supports. Germany and the US, for example accept PCR and antigen testing to safely manage the risks of travel.
Crew: The ICAO-CART guidance recommends that crew be exempted from testing processes and restrictions that are designed for passengers. IATA supports crew health management protocols such as regular testing and health checks at home bases. These can be combined with strict guidelines limiting interaction with the local community during crew layovers. The point is to enable airlines to manage the risks of COVID-19 and still be able to schedule crew to support operations.
All of these considerations occur against the background of the multi-layered bio-safety measures as recommended by ICAO-CART. These include mask-wearing and are being implemented globally. IATA supports such measures for all travelers until such time as the epidemiological situation allows for relaxation.
If those are the principles to plan for a safe, orderly and predictable re-start, we also need some global standards around which to implement them. I'll highlight three in particular:
Vaccination certificates: The WHO is leading efforts to build the standards needed to digitally record vaccination information. We see the Smart Vaccination Certificate will be the digital successor to the long-established "yellow book" used to manage vaccinations such as yellow fever.
Global framework for testing: The OECD is laying the foundation for a global framework to help governments trust testing data. It is based on mutual recognition of testing results. We recently saw the suspension of services between Denmark and the UAE because of concerns over the UAE's testing regime. This shows how essential it is to have a framework that enables mutual trust. And a key element of that is standardizing test certificates.
Finally, Digital Travel Credential: This enables travelers with an ePassport to make their phone into a digital passport. That will help with contactless processes which have been recommended by ICAO Cart. And they will enable the secure matching of certificates to travelers. As the standard exists, the challenge here is implementation.
These standards and the principles that I described earlier could be the foundation for setting the needed benchmarks for an industry re-start. And we will be engaging with governments as partners in laying the needed plans.
Even though the recovery is stalled, there is really no time to lose. The social and economic suffering that this crisis is causing is severe. As solutions become available, we want to be ready to implement them as fast as we can—of course, when the epidemiological situation allows.
It was easy for governments to shut off their countries with unilateral actions. But re-establishing global connectivity needs cooperation. IATA is engaged with the standard-setting process. We are moving forward quickly with the IATA Travel Pass. And we aim to be good partners for governments to establish workable re-start plans based on global standards. And our history of partnering with governments to make air travel the safest form of long-distance transport gives us a model to work from and the confidence that we can be successful.
Thank you and I look forward to your questions.
Media Briefing Recording: Listen to the teleconference (mp3)