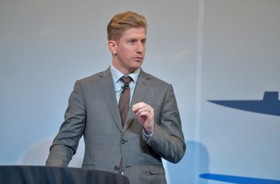 Ladies and Gentlemen, good morning and welcome to the 14th World Cargo Symposium - the first in-person since 2019—a positive sign that our industry is on the road to recovery.
During the crisis, air cargo showed its value to aviation and the world at large. It has been a lifeline for society, delivering critical medical supplies and vaccines across the globe and keeping international supply chains open. And for many airlines, cargo became a vital source of revenues when passenger flights ground to a halt. In 2020, air cargo generated $129 billion, which represented approximately a third of airlines' overall revenues, an increase from a 10–15% share prior to the crisis.
Cooperation
Air cargo responded to the challenges of the pandemic with innovation. Aircraft were reconfigured to carry cargo in the passenger cabin and freighter operations were expanded as best as possible. Safe new ways of operating were implemented, from accelerating digitalization to expanding contactless processes to reduce the risk of COVID-19 transmission.
The industry was also quick to:
Develop new standards to facilitate the movement of COVID-19 vaccines
Make sure that air cargo operations were excluded from COVID–related travel restrictions
Remove operating hour curfews for cargo flights to facilitate the most flexible global air cargo network operations
And introducing fast track procedures for overflight and landing permits for cargo operations, particularly in key manufacturing hubs in Asia -- China, Korea and Japan -- in response to the increased number of cargo charters replacing withdrawn passenger operations.
This improved cooperation across the logistics supply chain and with governments and border authorities led to the safe transport of millions of tonnes of live saving medical supplies and the delivery of millions of doses of COVID-19 vaccines. We succeeded in what was the most sophisticated global logistics operation ever undertaken but there were and continue to be challenges that need to be resolved. Despite this, air cargo emerged from the pandemic even stronger and more agile than before. And as a result, is well positioned to support the global economic recovery and overcome future challenges.
Looking ahead
The outlook for our industry both in the short and long-term is strong:
Indicators such as inventory levels and manufacturing output are favourable
World trade is forecast to grow at 9.5% this year and 5.6% in 2022
E-commerce continues to grow at a double-digit rate
And demand for high-value specialized cargo – such as temperature-sensitive healthcare goods and vaccines is rising
This year cargo demand is expected to exceed pre-crisis (2019) levels by 8% and revenues are expected to rise to a record $175 billion, with yields expected to grow by 15%. In 2022 demand is expected to exceed pre-crisis (2019) levels by 13% with revenues expected to stabilize to $169 billion although there will be an 8% decline in yields.
But the surge in demand for air cargo and attractive yields are not without complications. Pandemic restrictions have led to severe global supply-chain congestion and created hardships for aircrew crossing international borders. Resourcing and capacity, handling and facility space and logistics will be issue.
This will create further operational challenges for our industry that must be planned for now. But we have demonstrated resilience throughout the crisis and with that same focus we will overcome these challenges.
And it is with that same level of focus that we need to work together to:
Make aviation sustainable
Continue modernizing processes
And become even safer
Sustainability
Sustainability is our license to grow. Shippers are becoming more environmentally conscious and held accountable for their emissions by their customers. Many are now reporting how much their supply chains produce in emissions, and they are looking for carbon-neutral transportation options. We all need to meet customer expectations for the highest standards of sustainability.
At IATA's AGM last week, airlines committed to achieve net-zero carbon emissions by 2050. This commitment will align with the Paris Agreement goal for global warming not to exceed 1.5°C. The strategy is to abate as much CO2 as possible from in-sector solutions such as sustainable aviation fuels, new aircraft technology, more efficient operations and infrastructure, and the development of new zero-emissions energy sources such as electric and hydrogen power.
Any emissions that cannot be eliminated at source will be eliminated through out-of-sector options such as carbon capture and storage and credible offsetting schemes.
The path from stabilizing to reducing net emissions will require a collective effort. All industry stakeholders, across the supply chain as well as governments must each individually take responsibility to address the environmental impact of their policies, products, and activities. And they must work together to deliver sustainable connectivity and ultimately break aviation's dependance on fossil fuels.
We are already seeing some great examples in air cargo;
Firstly, in re-fleeting;

Atlas Air & DHL and Lufthansa signed new aircraft contracts this year.
And there has been some interest in electric aircraft too, with UPS planning to purchase up to 150 electric cargo aircraft which in are in development and DHL Express ordering their first-ever all-electric cargo planes.

Secondly in SAF commitments

Lufthansa Cargo has expanded its offer so customers can pay a premium towards the purchase of SAF.
AFKLMP Cargo will use sustainable aviation fuel (SAF) on selected cargo flights from Nairobi - Kenya to Amsterdam Airport Schiphol, carrying Total Touch Cargo Holland's fresh agricultural and horticultural products.
And FedEx and DHL Express have committed to getting 30 percent of their jet fuel from alternative fuels by 2030.

And the third area where we are seeing industry progress is in the electrification of ramp vehicles

AFKLMP is testing green airside transport vehicles – cargo dollies and container carriers – in collaboration with Groupe ADP at CDG
And Swissport has a goal to increase the share of electric GSE to 50% by 2025
And we have more opportunities to improve operational efficiency through modernization and digitalization – the second priority for our industry.
Modernization and efficiency
The pandemic accelerated digitalization in some areas as contactless processes were introduced to reduce the risk from COVID transmission. For example:
The Indian Customs Administration established an automated release of import consignments through Electronic Data Interchange(EDI) throughout India.
And several EU Member States started accepting electronic certificates instead of the original paper certificate.
We need to build on this momentum not only to drive improvements in operational efficiency but meet the needs of our customers. The biggest growth areas are in cross-border e-commerce and special handling items like time and temperature sensitive payloads. Customers for these products want to know where their items are and in what condition at any time during their transport. That requires digitalization and data. We are making progress:
E-air waybill is at 75% now. We hope to achieve 100% by the end of 2022. You have heard about this for years….and the crisis has brought us closer to success
The ONE RECORD vision will take this a huge step further…essentially enabling the whole supply chain to work together off one standardized and exchangeable set of data. So far there are 17 ONE Record pilots involving 145 companies and 3 customs authorities underway.
IATA's Cargo XML messaging standards are being accepted by an increasing number of customs authorities
And through programs such as Cargo iQ, Digital Cargo, Smart Facility and IATA's overall cargo standards activity we are helping to ensure the industry can optimize its processes to operate as efficiently as possible. This efficiency translates into reduced environmental impacts and a more sustainable industry.
These are big projects. And they are moving us in the right direction. So that is good. But we need to continue working at the same pace as we did during the COVID crisis.
Safety
The third priority for our industry is safety. There is one area that needs to be addressed as a priority: the transport of lithium batteries. The safety concerns around this remain of significant to us all.
Demand for lithium batteries continues to rise as does the risk from lithium battery related fires. Our main concern has been around accidents from rogue shippers who – miss-declare shipments. But the incident on the ramp at Chek Lap Kok Hong Kong International Airport earlier this year where a pallet full of smartphones caught fire prior to being loaded on a flight to Bangkok reminded us just how big the challenge is. The investigation indicated that loading and handling was as per regulation and the consignment was declared correctly.
What does that mean for the industry?
It means working with regulatory authorities (EASA and FAA) to develop a test standard that can be used to demonstrate the capabilities of fire containment covers needs to be accelerated.
And it means that we also need to continue targeting rogue shippers. Government authorities must step up and take responsibility for stopping rogue producers and exporters. Abuses of dangerous goods shipping regulations, which place aircrew and passenger safety at risk, must be criminalized. We see more effort going into stopping production of counterfeit Chanel bags than lithium batteries.
We also need industry to step up and expand the collection of incident data and develop methods for the data to be shared to support the airlines' safety risk assessment processes.
Later today, we will announce details of a new IATA CEIV program targeted specifically at improving safety across the supply chain.
Regaining ground
We have a real opportunity post COVID to regain ground in the transformation of the industry, but there are two areas where only governments can help.
Firstly, ensure borders are open to trade;
Secondly, facilitate the movement of trade.
Frictions have increased across the world. And there are big political problems such as protectionism and vaccine inequality that will need time to resolve. But we have agreed treaties that need ratification, treaties like The World Trade Organization's Trade Facilitation Agreement which focuses on business and trade. Despite the political tensions we encourage countries to make good on their agreements. As of today, 154 countries have ratified the agreement – 94% of WTO membership. We urge governments yet to ratify the TFA to do so and even more importantly for signatory countries to implement it as soon as possible. The cost of inaction is high. Full implementation could boost global trade by $1 trillion per year, reducing global trade costs by an average of 14%.
People
Before closing I would like to focus on people. Talent is essential for the sustainability of air cargo. Therefore, we must continue with three critical industry programs that will attract people to the industry and keep them by making them feel proud to be employed in this industry.
The Future Air Cargo Executive (FACE) program which is open to all air cargo / logistical employees under 35 and provides a specific summit for this next generation as part of the annual IATA World Cargo Symposium.
The FACE UP contest every two years which provides a platform for recent graduates whose thesis is about innovation and transformation in air transport logistics such as air cargo, supply chain management, mobility and IT solutions to present their thesis here at WCS.
IATA launched a program called 25 by 2025 to promote equal gender opportunities and highlight the industry's commitment to woman in leadership. It is a voluntary campaign for IATA member airlines to improve female representation in the industry by 25%, or up to a minimum of 25% by 2025. We urge you to sign up.
Conclusion
I will bring my remarks to a close by reflecting on why we are all here today. Air cargo is a critically important industry. This pandemic reminded us of that. We make people's lives better through trade and in the crisis we also recognized that we are saving lives. Globally we have delivered vaccines to 3.52 billion people worldwide.
We should always be guided by that fact - that the value we create by working together makes our world a better place. We are not just moving goods around; our work is helping build a better future for the people of the world. That inspiration guides me day-to-day.
Let's keep that in mind as we navigate the many challenges of our business and work together to make aviation sustainable, modernizing our industry and become even safer to help build a more prosperous future.
Finally, I wish you a very successful conference.
Thank you