Need Help?
The IATA Aviation Carbon Exchange, or ACE, is a centralized marketplace for CORSIA eligible emission units where airlines and other aviation stakeholders can trade CO2 emission reductions for compliance or voluntary offsetting purposes. A secure and easy to use trading environment, ACE offers the highest transparency in terms of price and availability of emissions reductions.
Airlines trading on ACE benefit from the IATA Settlement Systems and Clearing House for seamless and risk-free settlement of funds. The exchange is open to all airlines, IATA and non-IATA members, and other aviation stakeholders including airports and aircraft manufacturers. Furthermore, the exchange is also accessible to carbon market participants wanting to list emissions reduction that are CORSIA compliant.
The ACE platform is offered in partnership with technology provider Xpansiv, a global market leader for ESG-inclusive commodities. The ACE is in operation since 2020 with more than 20m tonnes of carbon credits having been traded on the exchange since then.
Need Help?
The ACE was designed to provide a centralized marketplace where airlines can identify, select, and transact voluntary and CORSIA eligible emission units, via a simple, secure electronic interface. At present, more than 50 airlines have made voluntary net zero offset commitments, and the ACE and its easy-to-use trading environment allow for the sourcing of carbon credits to meet their individual commitments.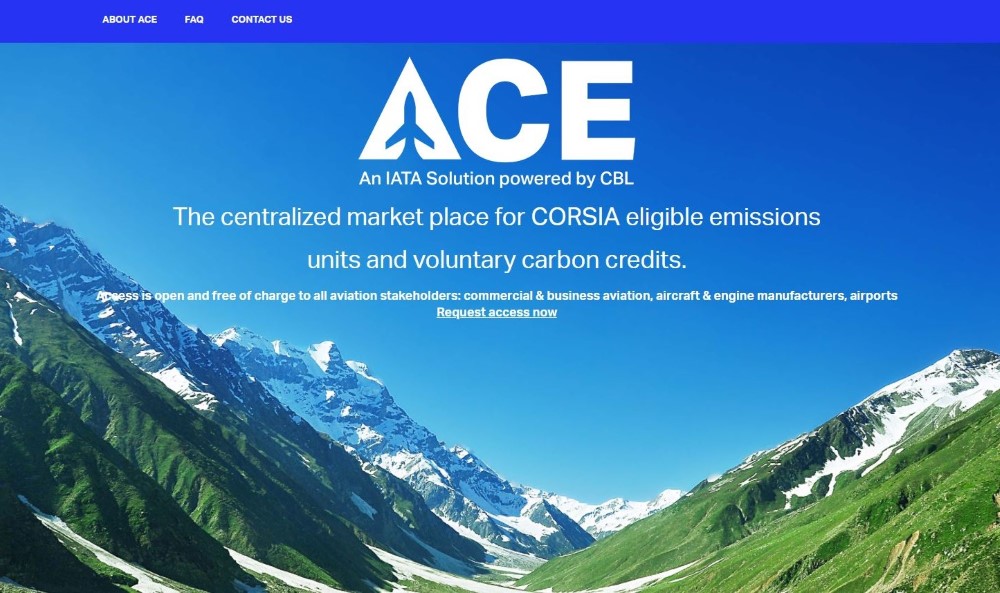 Powered by CBL, an Xpansiv market, ACE will serve as a centralized marketplace for CORSIA eligible emission units, providing a secure, intuitive destination for airlines to access real-time data with full price transparency. ACE trading is supported by the well-established IATA Settlement System and Clearing House, offering a seamless and risk-free settlement to IATA and non-IATA airlines.
ACE is open for trading to all airlines and carbon market participants, acting as buyers or sellers.
In particular, ACE will be useful to:
IATA and non-IATA member airlines
Aviation stakeholders, e.g., airports, aircraft and engine manufacturers, ground handling operators
Banks and commodity trading companies
Carbon offset broker and retailers
Carbon offset project developers
Active carbon market participants
All emissions units are being vetted for CORSIA eligibility before units are listed on the exchange.
Airlines and carbon market participants can request access by contacting us at ace@iata.org.
Access: CORSIA-eligible emission units accessible via one dedicated screen
Simplicity: Easy-to-use electronic interface, with filter functions and selection by
- state/region
- standard, or vintage
- link to project information
Secure Trading: Electronic clearing and minimal settlement time and delivery of products and funds, eliminating counterparty risk
Leverage: Trade directly with a wide range of participants (including brokers, intermediaries, project developers) removing the need for ERPAs
Increased Liquidity: The exchange provides price transparency and liquidity across multiple compliance markets
Connectivity: Electronic interfaces with registries to facilitate seamless trading of:
- American Carbon Reserve (ACR)
- Climate Action Reserve (CAR)
- Gold Standard (GS)
- Verified Carbon Standard (VCS/Verra)
- Environment Management Account (EMA)
Safe & Secure Settlement: Seamless and secure in-fund trading for airlines using the IATA Invoicing and Clearing House system.
Marketplace Trading: Possibility to switch between marketplaces, e.g. between dedicated CORSIA-eligible emissions market and other markets that fulfil mandatory offset obligations or voluntary offsetting demand.
Please fill in the webinar form to request a dedicated demo for you and your colleagues. The demo will cover the basic ACE functionalities and explain in detail how the system can help you with your CORSIA offset compliance requirements.