The IATA Aviation Carbon Exchange, or ACE, is a centralized marketplace for CORSIA eligible emission units where airlines and other aviation stakeholder can trade CO2 emission reductions for compliance or voluntary offsetting purposes. The ACE technology provides for an easy to use and secure trading environment, offering the highest level of transparency in terms of price and availability of emissions reductions. Airlines trading on ACE will benefit from IATA Settlement Systems and Clearing House for seamless and risk-free settlement of funds. The exchange is open to all airlines, IATA and non-IATA, as accessible to carbon market participants wanting to list emissions reduction that are CORSIA compliant.
The ACE platform is offered in partnership with Xpansiv CBL Holding Group. The roll out of the different trading options will be done in a phased approach and the full integration of CBL Markets' trading platform and IATAs settlement systems is planned for Q2020.
On January 30, 2020 — Xpansiv CBL Holding Group (XCHG) and IATA announced a partnership to develop the Aviation Carbon Exchange (ACE), a new and innovative way for airlines to meet their emissions compliance obligations under the Carbon Offset Reduction Scheme for International Aviation (CORSIA). CORSIA addresses the increase in total CO2 emissions from international aviation above 2020 levels.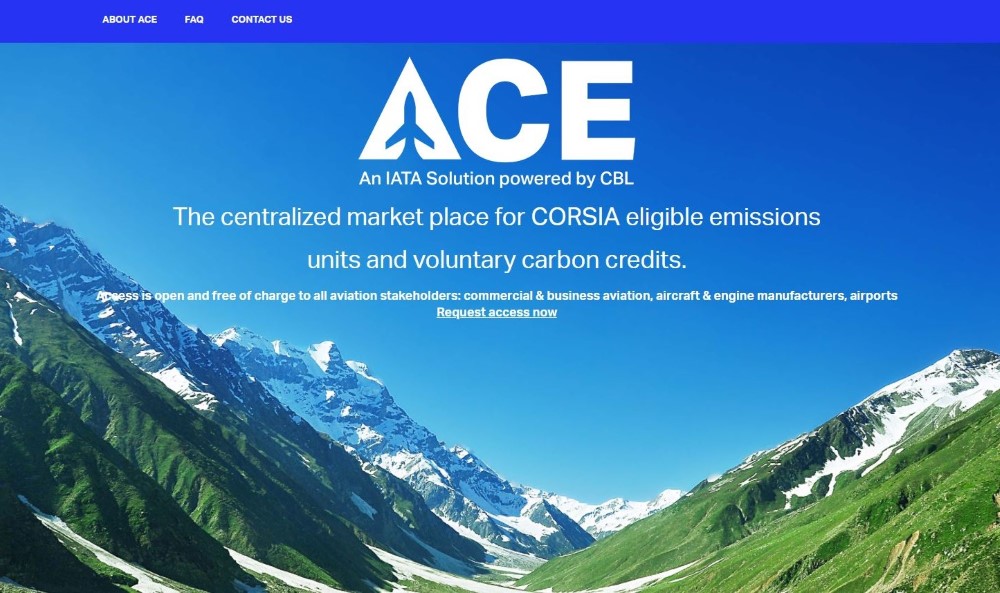 Powered by CBL Markets, an XCHG company, ACE will serve as a centralized marketplace for CORSIA eligible emission units, providing a secure, intuitive destination for airlines to access real-time data with full price transparency. In Q1 2020, CBL Markets and IATA plan to trial with airlines that want to start offsetting voluntary credits as a pilot phase. The CORSIA eligible emission units will be listed on ACE once ICAO has published those accepted under the scheme. ACE trading will be supported by the well-established IATA Settlement System and Clearing House, offering seamless and risk-free settlement to IATA and non-IATA airlines.
The partnership foresees a phased approach in terms of rolling out the different trading options, with the full integration of CBL Markets' trading platform and IATAs settlement systems to be expected during the 3rd quarter of 2020.
Access Request & Contact
Airlines and carbon market participants can request access by contacting us at ace@iata.org
ACE can be accessed for trading by all airlines and carbon market participants, acting as buyers or sellers.
Access can be requested by:
IATA and non-IATA member airlines
Banks and commodity trading companies
Carbon offset broker and retailers
Carbon offset project developers
Active carbon market participants
All emissions units are being vetted for CORSIA eligibility before units are listed on the exchange.
Access: All CORSIA-eligible emission units on one dedicated screen
Simplicity: Easy-to-use electronic interface, single venue

- Ability to select by project type, state/region, standard, or vintage
- Links to project information direct from screen
Secure Trading: Electronic clearing and minimal settlement time and delivery of products and funds, eliminating counterparty risk
Leverage: Trade directly with a wide range of participants (including brokers, intermediaries, project developers) on a single screen, removing the need for ERPAs
Increased Liquidity: The exchange provides price transparency and liquidity across multiple compliance markets from one highly secure screen
Connectivity: The exchange electronically interfaces with registries to facilitate seamless trading of products
- American Carbon Reserve (ACR)
- Climate Action Reserve (CAR)
- Gold Standard (GS)
- Verified Carbon Standard (VCS/Verra)
- UNFCCC Clean Development Mechanism (CDM)
- EMA
Safe & Secure Settlement: Seamless and secure in-fund trading for airlines using the IATA Invoicing and Clearing House system.
Marketplace Trading: Possibility to switch between marketplaces, e.g. between dedicated CORSIA-eligible emissions market and other markets that fulfil mandatory offset obligations or voluntary offsetting demand.
Please fill in the webinar form to request a dedicated webinar for you and your colleagues. Webinars will cover the basic ACE functionalities and explain in detail how the system can help you with your CORSIA offset compliance requirements.