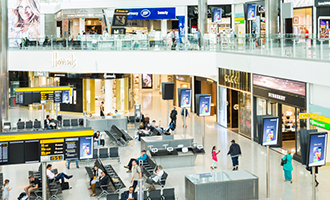 Airports have transformed from a 'people processing machine' to a 'people business'. The range of non-aviation income sources is wide: retail, food & beverage, parking, advertising, car rental, consumer services and landside real estate.
​Non-aviation business performance assessment
IATA supports you with our Performance Assessment which is a unique "health check" of how well your non-aviation business is performing relative to other airports. Specifically, our experts carry out an on-site assessment of your airport's non-aviation performance and benchmark your airport against leading airports and industry standards. This is followed by detailed, practical recommendations. In addition, IATA can offer a tailor-made state-of-the-art airport commercial training that will give your airport's commercial team the tools it needs to stay ahead of the curve! Something no other organisation currently offers.
1. Assessment of your current performance
The first step is to know where you stand. Our IATA experts work with your airport commercial team to observe and analyse your current non-aviation business categories and in particular terminal concessions (shops, restaurants, car rental, other services), car parking, advertising, and real estate airside and landside.

2. Benchmarking your commercial position
Retail: is there sufficient space for shops and food & beverage? How does their performance rank against best practice? What is the lay-out, mix, sense of place, attractiveness and what are the contract forms?
Car parking: number of parking spaces, product segmentation, performance , partnership forms and benchmark against industry leaders
Advertising: performance, media types and contractual agreements
Real estate: general terminal space rental, in-and off-terminal hotels, and (potential) other property developments
Our unprecedented range of airport databases and products coupled with our overarching ability to understand passengers' perception of an airport's commercial offering, enables us to tailor solutions which best meet the business objectives of the airport.
3. Recommendations for improvement
IATA follows up the Performance assessment and benchmark with recommendations. The improvements are fully aligned with IATA's recommendations on operational efficiency and standards outlined in the Airport Development Reference Manual (ADRM). In addition, these can be on a strategic, tactical or action level – such as:
Addition of business sectors
Improvements in agreements and partnerships
S

patial composition, lay-out and mix

Look and feel as well as sense of place improvements
More, new or less advertising media
Quick-win parking solutions and yield management
Guidance in short-and long-term landside real estate business approaches.
Other non-aviation business services
IATA can advise airports, airport investors and governments on a deeper level how to maximize non-aeronautical revenues, providing end-to-end solutions, from the development of business strategies down to implementation:
Non-aviation performance assessment
Retail strategy, design and planning
Food & Beverage strategy, design and planning
Customer journey matching airport operational excellence
Airport City development, funding and phasing
Car parking solutions and partners
Tenant and concession strategy, tenders and contractual partnerships
Your airport organization: commercial management
Marketing and branding
Digital strategies and tools, customer tracking, big data
Full commercial airport due dilligence for airport investors
Training
IATA can provide commercial management training shaped as tailor-made content touching on all non-aviation sectors, including real business cases actually managed by our team. By learning how to use the latest methods your management teams will be able to design, implement a development strategy for all key non-aviation revenue generators.
Downloads
Find out more about the trends in airport non-aviation business in our article published in International Airport Review.
More information
For more information on this or any of our other Consulting services, please complete and submit our contact form
Opt in for more information on IATA services you're interested in