As the demand for air transport ramped up after the pandemic, industry organizations were faced with a strong need for operational staff across sectors. Whereas, in the past, it may have been enough to recruit new people and train them up to speed, organizations are now having difficulty attracting and retaining staff, for a variety of reasons.
IATA's Global Skills Survey, commissioned by the Aeronautical Skills Working Group (ASWG), has investigated the challenges faced by each sector, the impacts produced, and the solutions that are or could be proposed.
Build your staffing strategy with IATA's industry insights
Comprising quantitative and qualitative research, the IATA Global Skills Survey discovered:
There are three main reasons for the staffing gap.
Different sectors are employing different strategies to bridge the gap, according to their needs.
Recruitment will continue to remain difficult in the near future, and creativity is the key to overcoming challenges.
Based on these findings, IATA is committed to investigating how to develop programs that will enable the industry to better work together to attract, train and develop the staff needed.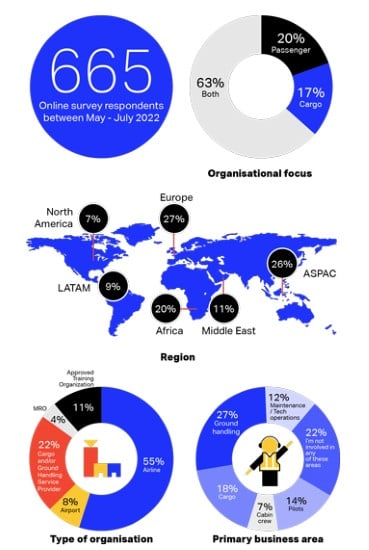 Our 665+ survey respondents globally.
Discover industry-proven solutions to bridge the staffing gap in our report.
---
Download the Report!
Please complete the form below to receive your own copy of the Staffing or Skills Gap? Bridging the Gap to Full Operations report: