In October 2014, we teamed up with Britmums to offer bloggers the chance to win £1000 worth of Thomas Cook vouchers! All they needed to do was write a piece about the dream destination that they've been to or have always wanted to visit. Read the wonderful winning entry below from Megan, writer of the From A Whisper To A Roar blog who talks about her magical first holiday abroad to the USA with her husband!
Memories of California
My husband and I went to California in 2012. It represented a lot of things. It was my first time flying since I was a child; my husband's first time flying, ever. It represented a huge break from normal life, which as well as being wonderful was sometimes stressful financially. We got married young (20 and 23 respectively) and I lost my job a week before our wedding, which was not exactly a happy moment. Talk about being thrown into the deep end. We got married in 2009, and 2012 was our first proper holiday (outside of quick camping trips to Devon or other places in Somerset). We are not naturally adventurous types. We are cosy, snuggle-on-the-sofa types. But there was part of us really longing to just do something big and exciting, something out of our comfort zones, something to spend our money on that would make memories instead of just more ... stuff.
It was also, secretly, a goal, and a kind of bookend to the first part of our marriage. The goals for 2012 were to move house, go on holiday, and get pregnant. Surprisingly we managed all three of them ;) I can't really tell you how I felt when we got into the airport after being too excited to sleep in our Premier Inn room the night before. We walked into Heathrow, looked at the little map to get our bearings, and were suddenly launched into a world that neither of us had ever experienced before. Just wandering around Heathrow (and eating bacon butties) was exciting.​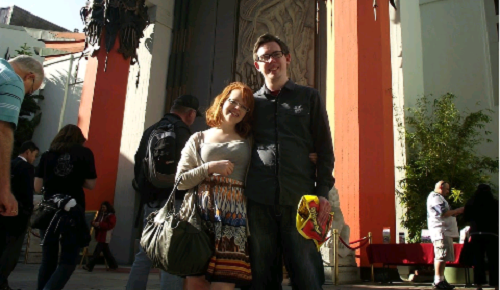 I got really jittery and worried when the plane took off. Think clutching-onto-the-seat scared. But it was so worth it. So worth the nine and a half leg-cramp-inducing hours to get to California. So worth it for the surreal sight of a massive picture of Barack Obama in LAX, bearing the words 'President Obama welcomes you to the United States of America.' I was too exhausted to get my camera out, but I wish I had done. It totally hit me then: I'm in America! We stayed with friends, whom we were desperate to see. That night we went to In-N-Out Burger after being awake for more than 24 hours. The waitress exclaimed over our accents, and weirdly, how nice I smelt, which was quite a nice compliment considering I had been travelling for over a day.
We squeezed in every drop of adventure that we could, big and small. We saw landmarks. We went to the tourist-crammed Hollywood and checked out the sizes of famous people's hands and feet. We had a picnic on the beautiful Venice beach and gawped at the mansions we saw on the drive there. We went shopping in Target and Walmart and I exclaimed over the amount of choice in the cereal aisle. We ate churros and enormous burgers and tub after tub of frozen yoghurt and weird flavours of Ben and Jerry's. Chris won a t-shirt for eating a ridiculously huge steak (and got jawlock in the process).
Most importantly, we spent time with amazing friends. I will never forget one particular night with them: a late evening in the hot tub, an impromptu Nerf gun war, an even-later visit to get some good old Frogurt, and then we sat down around the sofa and made predictions: what did we think would change the next time we saw each other? Some of these predictions were really specific. And they remain closed in a box, ready for the next time we go to visit them.
Our friends now live in Florida, enviably close to Disneyland. They also have a baby, a boy a few months younger than our girl (we joke that they are betrothed. I think my husband is quite serious about it actually). We have seen them once this year when they came to visit rainy Somerset to show off their gorgeously smiley baby boy, which was lovely. Chris and I still talk about our holiday all the time. When we are feeling a bit glum about our financial situation, or when we are on a rare 'date' away from our daughter, we pull out memories from sunny California. 'Do you remember when I ate that burger almost the size of my face? Remember when that guy totally conned you out of five dollars for a copy of his crappy rap album on Hollywood Boulevard?' Or we recall feelings: how it felt to drive out of L.A and see the beautiful mountains ahead of us. How exciting it was just to roam the streets and see real mailboxes and beautiful houses with big American flags waving in the breeze. How it felt to leave our friends at the airport, sad that it went by so fast, but with the idea in our heads that maybe soon we'd start a family. Sometimes we just like to remember how adventurous it felt to pack everything up and go somewhere completely new. For some people, hopping on a plane is just normal and nothing to worry about. For us, it was so unusual that it involved a bit of courage, to embrace change, to try something new.
I think it made me realise how important it is to make these memories. How we can have precious moments and big adventures at home, but we can have even bigger ones a little further afield. It made me realise how sometimes, you need to make decisions for the good of your heart and soul, not just the good of your bank balance. So eventually, one day, we want our daughter to experience the thrill of adventure, the experience of 'being' somewhere completely new. We want to take her to Florida, see our friends, let our children play, maybe fit in a quick trip to Disney. And maybe, open that box and see if our predictions were right.
​ ​